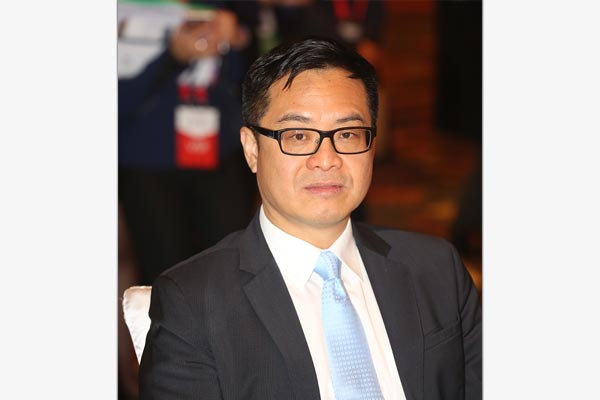 Michael Jiang, president of Motorola Solutions China.[Photo/VCG]
US telecommunication equipment and solution provider Motorola Solutions Inc plans to expand the application of its walkie-talkie two-way radio into transportation, manufacturing, oil and petrochemicals, forest protection, telecom and other key industries in China.
Michael Jiang, president of Motorola Solutions China, said: "China, as a strategically important market for the company, is full of potential."
"The traditional manufacturing industry in China is now facing upgrading and transformation, which is our opportunity and advantage, as our solutions help users to enhance working efficiency and productivity."
"Along with the manufacturing sector, we have a broad application in other fields such as oil and petrochemicals, transportation, forest protection and hotel management," said Jiang, adding that the outlook is very promising.
US tech giant Motorola Inc divided its business into Motorola Mobility and Motorola Solutions in 2011. Motorola Solutions focuses on providing enterprise-class communication solutions and services, excluding the consumer electronics field.
Motorola Mobility was acquired by Chinese personal computer maker and smartphone vendor Lenovo Group Ltd from Google Inc for $2.9 billion more than a year ago.
The demand for walkie-talkies, which offer reliable and real-time communications, is increasing in China. The forestry department in Central China's Hunan province deploys Motorola's digital radio system for real-time communications and forest protection.
Rangers depend on the radio system and stay constantly connected to their colleagues working in control rooms, who have visibility over the entire operation and can help keep them safe at all times, especially in times of emergency, said Jiang.
Motorola Solutions has now deployed more than 5,000 radios to major forestry projects across the country including the Inner Mongolia autonomous region, as well as Hebei, Liaoning, Sichuan and Guangdong provinces.
With the rapid popularization of mobile telecom technologies, "I believe there is a trend that professional communication network (for radio communication equipment) and public networks, which exists everywhere, will integrate," said Jiang.
For example, a smartphone user could be connected to radio communication network and terminal through downloading software.
Michael O'Connor, vice-president of radio channel sales of Motorola Solutions in Asia Pacific & Middle East, said: "China becomes much more advanced in their use of wireless communications... and their use of communications is not just voice, but also the data applications that help manage businesses."
O'Connor added the application of walkie-talkies is mature in China, and it could be connected to the internet and apps.
Fu Liang, an independent telecom expert, said: "Motorola has a traditional strength in the two-way radio field, and shifting its focus into enterprise-service from consumer is understandable."
Fu added it still faces some competitors such as Huawei Technologies Co Ltd and ZTE Corp, which are making efforts in radio communication network and terminal as the technical obstacles are not difficult to overcome. "The competition in this field might be fierce in the future."