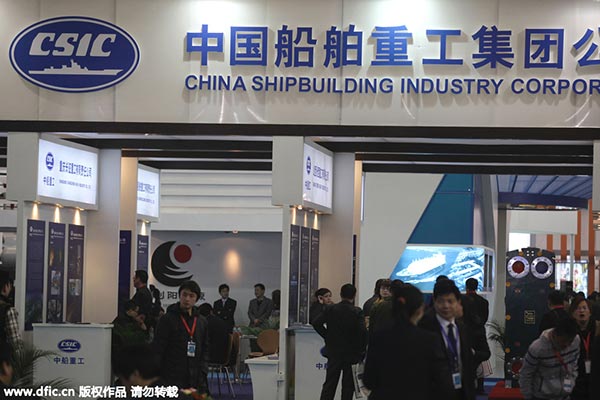 View of the stand of China Shipbuilding Industry Corp (CSIC) during an exhibition in Beijing, March 22, 2010.[Photo/IC]
As the date to release the annual report pushes closer, performance forecasts have been released by listed companies and the results are varied.
China Shipbuilding Industry Corp (CSIC), a major shipbuilder, forecasted a loss of 2.5 billion to 2.8 billion yuan in 2015, the biggest number forecasted among the companies that are listed on the Shanghai and Shenzhen stock exchange markets, National Business Daily reported Monday.
It is also the company's first loss in recent years. CSIC's net profits were 3.58 billion, 3.29 billion and 2.28 billion yuan, respectively, from 2012 to 2014.
The sluggish shipping industry is the main reason behind CSIC's fall. The continuing fall of crude oil, the slowing development of offshore oil and gas, the decrease in marine equipment rental prices and the building pressure of the company's ocean engineering operation have dimmed profit prospects, according to the company.
It is a tough winter for the global shipping industry. According to CSIC's reports of the first three quarters, the loss was 441 million yuan from January to September, which means the company took a big hit in the fourth quarter, with a loss of 2.06 to 2.36 billion yuan.
Two other listed companies expected to suffer big losses are China Shipping Container Lines Co, with a 2.8-billion-yuan loss and China National Coal Group Corp, with a 2.3 to 2.8-billion-yuan loss, according to the news report.