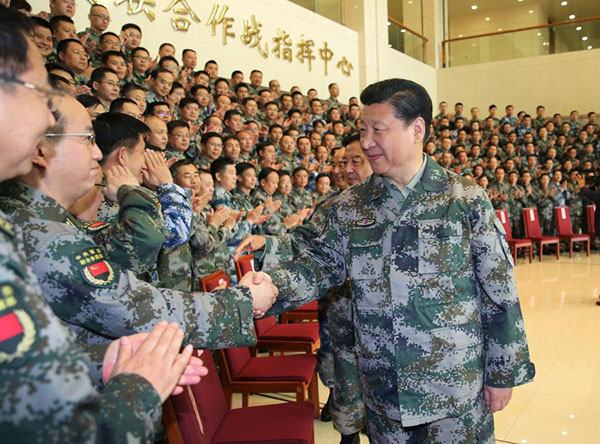 Chinese President Xi Jinping inspected the Central Military Commission (CMC) joint battle command center in Beijing on April 20, 2016. [Photo/Xinhua]
In a sign to strengthen an anti-graft campaign in the People's Liberation Army (PLA), China's military has for the first time sent corruption inspection teams to its units, Xinhua news agency reported on Thursday.
The move will run parallel with a practice that already sees inspectors sent for civilian departments by the country's anti-corruption watchdog, the CPC Central Commission for Discipline Inspection.
As part of a military reshuffle, the PLA set up its own corruption-fighting division in January, the discipline inspection commission, under China's top military decision-making body, the Central Military Commission (CMC). A military auditing office was also established to organize and guide internal audits and supervision.
President Xi Jinping, who also chairs the CMC, issued a stern warning of "cabals and cliques" in the Communist Party of China in a speech published in the People's Daily on Tuesday.
Xinhua also reported that the new graft inspectors finished a two-day training session on Wednesday and have been divided into 10 teams before being sent to various units around the country.
The latest step came after the military set up a hotline in January for people to report corruption and other misconduct.
Since the crackdown on graft was launched three years ago, many high-ranking officials, including some military figures, were investigated.
President Xi urged leaders of the CMC organs to draw a profound lesson from the corruption cases of Guo Boxiong and Xu Caihou, both former vice chairmen of the CMC, and take a clear-cut stand against corruption while addressing the military reform in January.