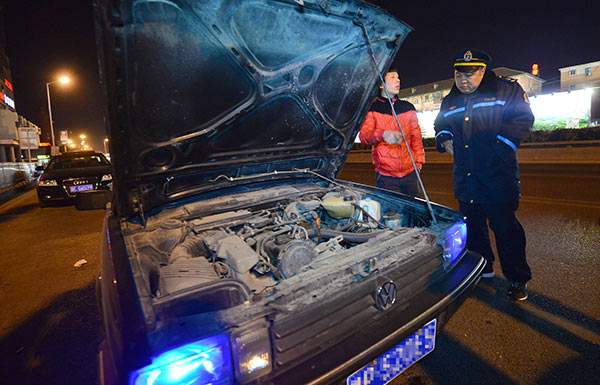 A private car is seized by transport authorities in February because its driver offered rides for payment and failed to provide the required licenses in Beijing.[Guo Qian/For China Daily]
Teacher attacked with knife by driver from ride-hailing service
The alleged murder of a young woman by a Didi taxi driver on Monday evening triggered public concern over the safety and supervision of online car-hailing services.
The Transport Commission of Shenzhen on Wednesday told China Daily it will release detailed supervision measures after the Ministry of Transportation launches the regulation for online car-hailing services later this month.
Local police said that the 24-year-old woman was murdered by a Didi driver in Shenzhen on May 2.
The woman, surnamed Zhong, was an English teacher at a primary school in Shajing, Baoan district. She hailed a Didi taxi from her home near the Shenzhen Hi-tech Industrial Park to go back to school on Monday evening.
Shenzhen police on Tuesday evening announced that the driver, surnamed Pan, was arrested and Zhong's body had been found.
Pan, 24, admitted picking up Zhong at about 9 pm and taking her to a remote road, where he forced Zhong to hand over valuables with a knife and then murdered her.
Didi also disclosed the suspect did not have a criminal record and was reviewed by his previous 18 passengers as "a qualified driver with no record of complaints".
The killing made a splash on local media and triggered calls for more attention to be paid to the safety of online car-hailing services.
Tang Yi, a Didi driver in Shenzhen, said the company told drivers to ensure that their information is complete.
To register at Didi, the driver needs to fill in his/her name, ID, mobile phone number, city, license plate number and car brand online.
But Tang said drivers can start to take passengers without the information being double checked.
He added that some drivers even use photo editing software to change the car license and suggested Didi set up an offline verification system. Some drivers use one car to register with two different, even fictitious, license plate numbers, so that they can receive more orders.
Last July, a driver who registered on Didi with car information he found online raped a female passenger in Beijing. The driver had a criminal record of patronizing prostitutes.
In March, the Shenzhen transportation bureau had a meeting with major service providers in the city and asked them to provide driver information, but Zhai Yuhui from the bureau said only partial information was handed in.
"After checking this information with the police database, we can ensure the personal and car information registered on these platforms is authentic, but whether they are hired is not our decision," Zhai said. He added that these companies also need to make sure drivers use the registered car and license plate to take passengers.
Didi states it checks driver registration information with the criminal record database approved by law enforcement agencies and driving record data from the Department of Vehicle Administration.
The company said it will launch an in-app 110 police number to further enhance safety protection.