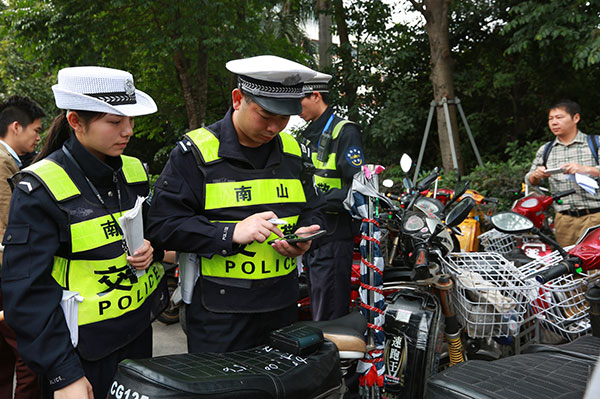 Traffic police officers in Shenzhen, Guangdong province, seize unlicensed electric bikes and freight tricycles in March. XUAN HUI/CHINA DAILY
SHENZHEN - Five express delivery firms in south Chinese city of Shenzhen signed agreements with local authorities on Saturday, pledging to outdate electric motor tricycles in two months.
The five firms include SF Express, JD, Yhd, Sinfor and Deppon, said the local traffic management bureau.
The firms were given 3,046 electric bicycles in quotas to fill the gap. They also will buy electric minivans.
The city launched a campaign to ban the use of motorcycles and motor tricycles in late March, triggering harsh backlash particularly from the express delivery industry.
Related: Shenzhen's clampdown on e-bike hits courier services
Most delivery workers in Shenzhen use electric motor tricycles. But China do not have a national standard for electric tricycles and most in Shenzhen are illegally assembled and are not entitled to vehicle plates, said the bureau.
Related: Govt releases proposed national standards to regulate e-tricycles
The city will mull new control measures after the national standard on electric motorcycles for the express delivery industry is rolled out, it said.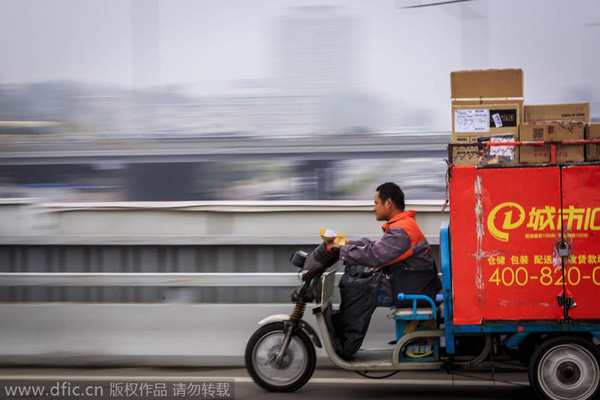 A courier en route to deliver packages in Beiing, Oct 11, 2014. [Photo/IC]