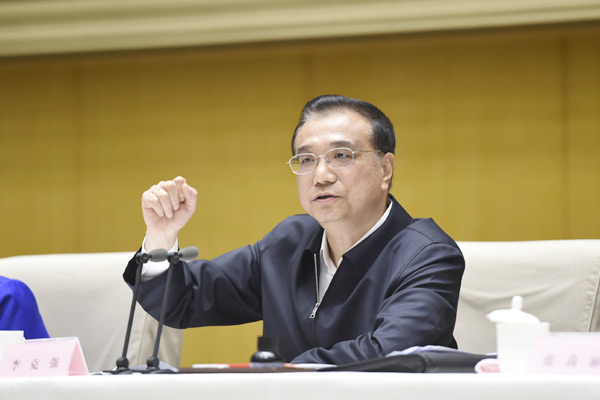 Premier Li Keqiang said at a May 9 telecommunication conference on streamlining administration in Beijing. [Photo/www.gov.cn]
Efforts to streamline government administration, transform government functions and boost efficiency will be redoubled to spur economic vitality and attract overseas investment, Premier Li Keqiang said on Monday in Beijing.
The streamlining drive is aimed at meeting the requirements for another round of opening-up and at improving China's global competitiveness, Li told a national teleconference.
"We used to rely on our demographic dividend, but today such a dividend is diminishing," he said.
The premier said streamlining administration is also a step toward further opening-up and nurturing new competence in a global context.
At the teleconference, Shanghai shared its experience in these efforts. The city's free trade zone has introduced a much-reduced negative list for foreign investment, which has cut special administrative measures by more than one-third.
The Shanghai government has also explored new business registration policies, cutting the company registration time from 29 days to less than four. In the free trade zone, more than 100 new measures have been implemented and international trade has its own channel.
The time taken for customs clearance procedures has been cut by 40 percent.
Li said these measures have made a difference, and China's business environment has greatly improved in recent years and market access has been further opened up.
According to the World Bank, China has risen six places in a year to 84th spot out of 189 economies in terms of convenience of conducting business.
But its conventional advantages in the global economy started to wane in recent years. Both foreign trade growth and overseas investment have declined, due in part to weakening international demand and China's business environment.
Last month, China's foreign trade stood at 1.95 trillion yuan ($300 billion), a fall of 0.3 percent year-on-year, according to the General Administration of Customs.
Chen Fengying, a global economy researcher at the China Institutes of Contemporary International Relations, said China is facing insufficient external demand for goods and growing internal demand for better salaries and welfare.
Some processing manufacturing moved to South and Southeast Asia to reduce labor costs, but China has a sounder legal system and can improve its "software" by streamlining administrative processes, Chen said.