A man who was wrongfully imprisoned for 23 years will receive more than 2.75 million yuan ($421,800) in compensation, a court in Hainan province said on Friday.
The Hainan Provincial High People's Court announced that Chen Man will get more than 1.85 million yuan in compensation for restriction of personal freedom, as well as 900,000 yuan for mental suffering.
Chen, with his family and lawyer, applied for more than 9.66 million yuan in compensation in March, including 1.85 million yuan for loss of freedom, 3 million yuan for mental suffering, 3.7 million yuan for unemployment and 1 million yuan for his family's expenses.
"We accept the court's compensation and respect its decision, even though it is much less than what we applied for and expected," Wang Wanqiong, Chen's lawyer, said on Friday.
Chen, 53, from Southwest China's Sichuan province, who was given a two-year suspended death penalty in 1994 for homicide and arson, was acquitted in Haikou, Hainan's capital, on Feb 1.
He had been held in prison before being sentenced.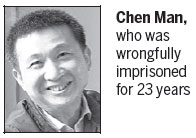 Officials at the provincial high court bowed and apologized to him when he was declared innocent.
After he was released, he returned to his hometown of Mianzhu in Sichuan to be with his parents. "He is still at home and jobless," said Wang.
Chen said that he is adapting to society.
"As a wrongfully imprisoned man, I have lost too much. I won't waste time. I'll face my life positively," he said.
In a similar case, Nian Bin, who was wrongfully jailed for eight years, was offered 1.13 million yuan in compensation in February last year, but he did not accept it, saying that it is far from his request for 15 million yuan.
Nian, who was sentenced to death in the poisoning deaths of two children in 2006 and freed on Aug 22 two years ago, is still applying for compensation.
Ruan Chuansheng, a criminal lawyer in Shanghai, said that such a gap between final compensation and an applicant's expectation is understandable.
"After all, how much money a court decides to pay is often different from what people apply for," he said.
In the past, money for mental suffering was not agreed to by courts, "but after the country revised the state compensation law, this part has been approved", Ruan said.
But the revised law does not specify a standard.
"It makes judges estimate an amount in line with how much damage a wrongfully jailed man in a prison experienced, but it's hard to quantify," he added.
caoyin@chinadaily.com.cn
(China Daily 05/14/2016 page4)