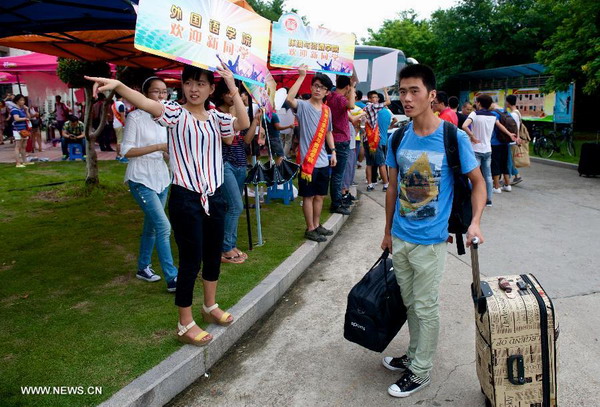 A file photo shows senior students showing freshmen the way at a university in Fuzhou, capital of East China's Fujian province on an enrollment day. [Photo/Xinhua]
More than 70 colleges have been named and shamed for illegal enrollment and online fraud by a website, said Beijing Youth Daily.
According to the website, sdaxue.com, 73 universities, of which 23 are in Beijing, were swindling students across the country.
The list, the fifth of its kind, raises the total number of fake colleges to more than 400.
Most of these institutes have their own website, and when exposed, they just change their domain names and continue their fraud.
Sometimes these colleges even have their own campus or rent buildings and dormitories from authorized universities, making it difficult for students and their parents to confirm their authenticity.
Students and their parents are suggested to read Guidance to Selecting Institutions of Higher Learning or visit the websites of authorized universities, which usually end with ".edu" and is updated frequently.
The list of this year's authorized institutions of higher learning will soon be released by the Ministry of Education. The list can be accessed via the website, www.moe.gov.cn.
The ministry issues the list every year to alert the public of "diploma mills" which are still seen in a lot of places despite repeated bans.