Across the country, spring flowers and greenery have dressed urban and rural areas in a multitude of colors. Tourists have flocked to sites decorated with blossoms, including scenic spots at many prestigious universities. The influx of tourists visiting Wuhan University to enjoy the cherry blossom has led many studying there to complain that the extra people are not only seriously disrupting the school's teaching and study routine, but causing traffic congestion in the surrounding area. According to a survey conducted by the China University Media Union, only around 18 percent of students say they rarely see visitors at their universities. The vast majority reported regularly seeing visitors wandering around campus, and 26 percent of students said the tourists and visitors were having a negative impact on their daily lives. The issue of whether or not universities should try to limit the number of campus visitors has sparked a heated debate.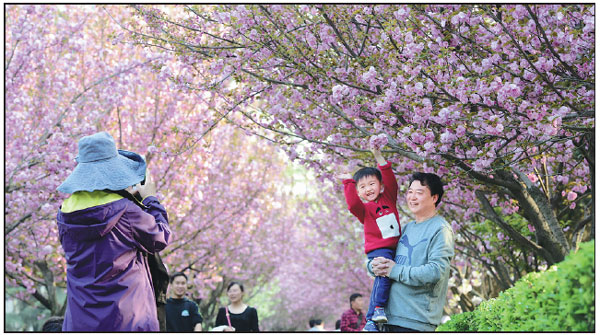 Tourists take photos on the campus of Xi'an Jiaotong University in Shaanxi province on March 31.Yuan Jingzhi / For China Daily
For limits
An open campus has made it very difficult to keep order. Unlike Peking University and Tsinghua University, Xiamen University does not separate its teaching area from the residential area and the sightseeing area. Take Tsinghua University for example, it has set an overall cap on visitor numbers and it could, in practice, allow them only to visit places that are open for visitors. The situation is totally different in Xiamen University. When we let tourists in, we cannot keep them within one area. Many tourists just ignore notices in the teaching area and take pictures while educators are giving lectures.
Tao Yuansheng, deputy head of the security department at Xiamen University in Fujian province
I think tourists have not disrupted my studying. However, I am more concerned about the public security issue. With more strangers flocking onto the campus, I presume there will be more thieves around. A few days ago, there was a burglary in our dorms. And some of my classmates have lost their bicycles.
Wang Pan, a student at Tsinghua University in Beijing
Against limits
I think universities should not stop people from visiting them. Prestigious public universities in China are valuable assets for all citizens. When I was young, my parents took me to visit many universities and these trips encouraged me to study hard and get myself enrolled at one of them later. Encouraging people to pursue an intellectual life is one of the social responsibilities of the universities.
Zhang Yu, a civil servant in Nanjing, Jiangsu province
A university is not an isolated island, it is part of society and they should be happy to share the natural and intellectual resources with the rest of society. Attractive tourism destinations and universities are not mutually exclusive. I suggest universities follow the example of museums by allowing people to make online reservations so they can control visitor numbers. I think this would help solve some of the problems and build China's reputation among tourists from around the world. An open campus is an important sign of confidence.