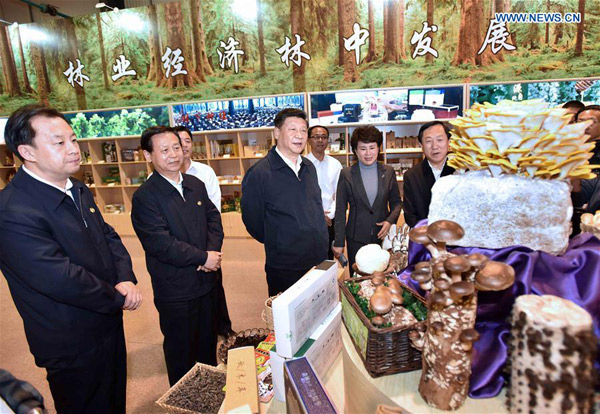 Chinese President Xi Jinping visits an Ecological Economic Development Zone in Yichun, Northeast China's Heilongjiang province, May 23, 2016. [Photo/Xinhua]
President Xi Jinping used a field inspection trip to Heilongjiang province this week to spread the message about the central leadership's decision to revive China's northeastern industrial belt.
He called for more action on economic reform and on environmentally friendly development in Heilongjiang and the northeast region.
The central leadership has issued a new plan to revitalize the economy in the northeast, which has long been hampered by a lack of reform and industrial upgrading.
The region, consisting of Heilongjiang, Jilin and Liaoning provinces and the eastern part of the Inner Mongolia autonomous region, was an industrial bastion in the 1950s and 1960s.
During his three-day tour, Xi traveled to Heilongjiang's forest areas, farming areas, the homes of ethnic minority groups, and technology companies in Harbin, the province's urban center.
In Yichun, a city with 4 million hectares of forest that used to be known for its lumber trade, residents have abandoned the industry since 2013.
Xi applauded the former forestry workers' efforts on forestry protection and the development of diverse new environmentally friendly industries.
"A good environment is also a resource. A good environment is also a form of productivity," Xi told the residents.
He encouraged them to seek sustainable business from the protection and conservation of local natural resources. "But you can always count on the central government's care," Xi said.
Wu Peishan, 33, who lives in Yichun, started her business in Beijing, selling the high quality honey collected from 30 households, 10 of which used to depend on the lumber industry.
"Annually, they can make 30,000 to 50,000 yuan ($4,570 to $7,600) on average, higher than their wages before," she said, adding that the best performing household could make as much as 80,000 yuan a year.
Jiang Yongbin, another former forestry worker, now earns a living from aquatic farming with his former colleagues. "I thank President Xi for bringing good policies to us," he said.
Contact the writers at zhengjinran@chinadaily.com.cn