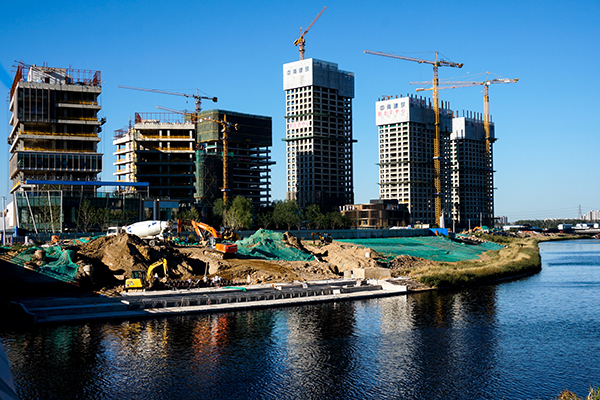 Buildings are under construction in Tongzhou district in Beijing, Sept 25, 2015. [Photo/VCG]
Starting from Friday, individuals can no longer buy commercial or office buildings in Tongzhou district in Beijing, as the capital aims to cool down the market of its new administrative sub-center.
Only companies and public institutions are eligible buyers for new and resold commercial properties, according to a notice released by the city's housing authority on Thursday evening.
The city also restricted households with two apartments or single person with one from buying another in Tongzhou district, according to the notice. Same with the limit applied citywide, home buyers should be registered Beijing residents or contributing to social security funds in the city for a minimum of five years.
The new rules do not apply to buyers who made the purchase before the announcement, said the notice.
The move comes as a continuation to the existing curbs targeted at Tongzhou real estate announced last August, where a second home was only permitted to registered Beijing residents who paid social security funds or personal income taxes in district for at least three years.
"The new rules aim to stabilize property market in the region and are for long-term development," said the Beijing urban commission in the notice, adding that the authority will also inspect into cases where office buildings are illegally adapted for residential use.
Tongzhou district is tipped to become a sub administrative center for the municipal government of Beijing at the end of 2017, with around 400,000 people scheduled to relocate, according to the city's officials.
Along with the municipal government, the Beijing Committee of the Communist Party of China, the People's Congress of Beijing, and the Beijing Committee of Chinese People's Political Consultative Conference will also move to Tongzhou district, said Li Shixiang, executive vice-mayor of the city, in March.