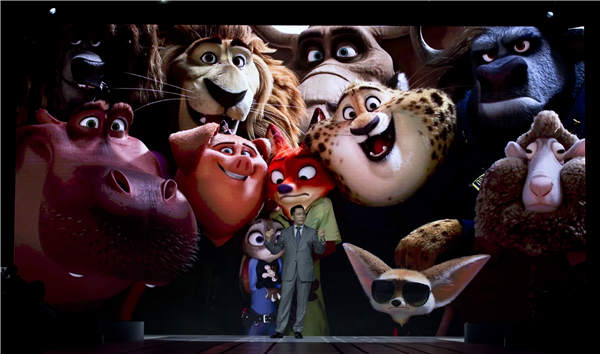 Kelvin Hou, founder and chief executive officer of Mtime, speaks about developing movie-related merchandise in China at a Beijing event. [Photo by Feng Yongbin/China Daily]
World of Warcraft fan Yan Feng has had a replica of Frost-mourne, one of the online game's most powerful weapons, in his Beijing apartment for years.
But, despite having spent 1,000 yuan ($154) then to buy the sword on e-commerce site Taobao, all Yan got was pirated copy.
Explaining why he opted to buy the fake, Yan, who's been fascinated by the game for more than a decade, says: "There were only 1,000 official pieces made globally and they sold out very quickly. Also, it was not easy to buy one in the Chinese mainland then."
The good news for fans like him now is that for the upcoming movie Warcraft, based on Blizzard Entertainment's game, a wide variety of merchandise will be available to fans in China.
The movie will hit mainland theaters on June 8.
Around 100 movie-themed products, from mobile phone shells to umbrellas, are currently available from online stores and cinemas here.
With the growth of China's movie industry, the merchandise sector is set to see a huge upswing.
China, which grew to be the world's second-largest movie market in 2012, saw huge box-office growth, up 48.7 percent year on year in 2015.
Meanwhile, despite industry sources predicting that China will overtake the United States to be the world's top movie market by 2017, its merchandising sector lags far behind the US.
Figures reported in the domestic media show that while box-office receipts now account for more than 90 percent of China's movie industry revenues, the figure for the US is around 20 to 30 percent.
The rest of the money comes from related sectors, such as merchandise, theme-park tourism and licensing of the character's image.