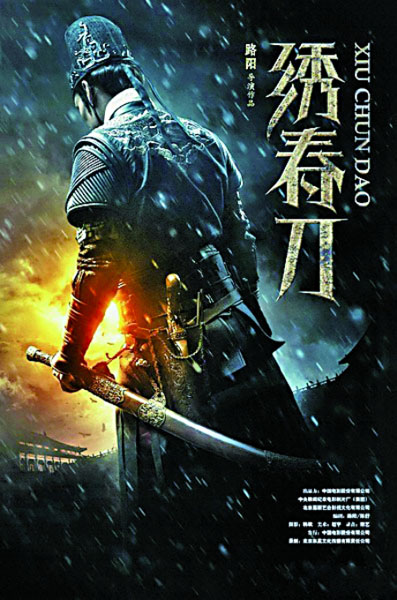 Poster for Brotherhood of Blades, a nominee for the awards. [Photo provided to China Daily]
The country's film directors are voting on last year's best films and actors, after China Film Director's Guild Awards nominees were announced on Tuesday.
Winners will be announced at an award ceremony in April, before the Beijing International Film Festival.
This year, 21 films have been selected from about 100 publically screened mainland movies with mainland directors to compete for the Films of the Year Award.
"We will judge the films based artistic expression, rather than box office performance, social influence or investment," first-round judging-committee member Ding Sheng says.
"We're glad to see many of last year's low-budget films were of high-quality."
Since its 1993 founding, the CFDG has been recognized as China's leading film-directors association. It currently has 300 members.
It initiated the annual awards to honor the previous year's best movies in 2005 but stopped the following year, partly due to an "insufficient number of quality films", the association's head Li Shaohong says.
The awards resumed in 2011 in concert with the launch of the Beijing International Film Festival, which industry insiders agree gave oomph to China's subsequent film-market boom.
"We don't want our award to be too similar with other domestic film awards," Li says.
"Directors have their own aesthetic judgments ... (and) respect film creators' artistic spirit."
Film of the Year nominees include hits like writer Han Han's directorial debut The Continent, Jiang Wen's contentious Gone with the Bullets and Diao Yinan's Black Coal, Thin Ice, which won the Silver Bear for Best Actor in Berlin.
But many nominees are less known.
Li admits the exclusion of mainland productions without mainland directors is a controversial criterion, since it excludes such popular films as Hong Kong director Peter Chan's Dearest.
"There has been an explosion of coproductions beyond our expectations," she says.
"We'll consider adjusting the criteria next year."
This year's awards will introduce a project to encourage productions by directors, who are younger than 38 and have done no more than three feature-length films.
A jury will select five story ideas, and the projects will each receive more than 1 million yuan ($160,000) in government support and more investment from top Chinese film companies later.
"This will help newbie directors connect with producers," says CFDG member Song Wen, who's in charge of young directors' development.
"It will incubate less-known talent and a diversity of plotlines in the coming years."