Apple's watch hasn't impressed the fashion world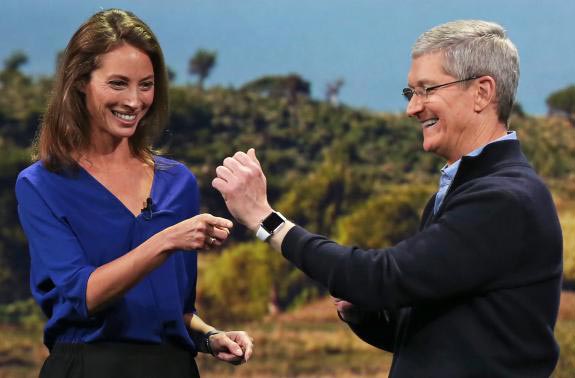 Model Christy Turlington Burns speaks to Apple CEO Tim Cook about the Apple Watch. [Photo/Agencies]
Apple Inc. has made every effort to convince the fashion world that the Apple Watch is the next chic accessory.
Supermodel Christy Turlington Burns became the timepiece's highest-profile advocate from the fashion world when she joined CEO Tim Cook onstage in San Francisco on Monday. And the company has made a big publicity push in Paris, giving style heavyweights Karl Lagerfeld, Anna Wintour and model Karlie Kloss an advance preview ahead of a display last fall at the Paris boutique Colette.
But has it convinced the fashionistas that the Apple Watch belongs on their wrists? Not so far.
For all of the glitz surrounding the watch's introduction, the multi-tasking timepiece was met in the fashion world Monday with a yawn.
Members of the style establishment, in Paris for shows from the glittering likes of Chanel, Givenchy and Hermes mostly said they saw the watch as a gadget, not this season's must-have accessory.
Up-and-coming model Julia Van Os dismissed the new device in an interview with Reuters after working the Stella McCartney show inside the ornate Opera house.
"I haven't heard anyone talking about it," said the Dutch model. "It's a different world, it's more technology rather than fashion. People don't wear that kind of watch in fashion."