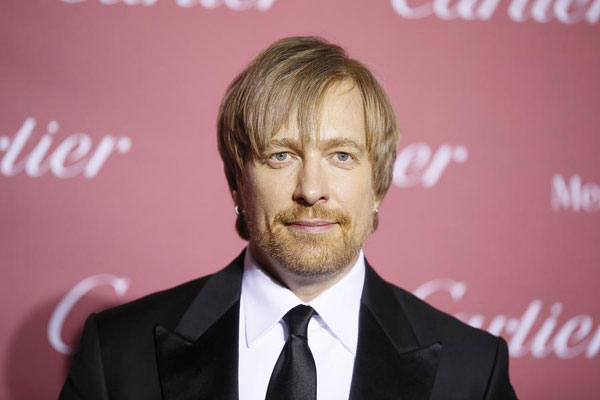 Director Morten Tyldum poses at the 26th Annual Palm Springs International Film Festival Awards Gala in Palm Springs, California, January 3, 2015. [Photo/Agencies]
Wes Anderson, Clint Eastwood, Alejandro Inarritu, Richard Linklater and Morten Tyldum were nominated Tuesday for the Directors Guild of America (DGA) Award for feature films.
President of the DGA Paris Barclay announced the five nominees for the DGA Award for Outstanding Directorial Achievement in Feature Film for 2014. The DGA Award is often a strong indicator of who will win Oscar best director.
"In a year full of excellent films, DGA members have nominated a stellar group of passionate filmmakers," said Barclay.
"Inspiring and artistic, these five directors made films that left an indelible impact not only on their fellow directors and members of the director's team, but on audiences around the world. Congratulations to all of the nominees for their terrific work," he said.
Linklater won the Golden Globe on Sunday for "Boyhood". This is his first nomination for the DGA Award.
Eastwood's nomination for "American Sniper" is his fourth career DGA nomination. He won the prize for "Million Dollar Baby" and "Unforgiven" , and was nominated for "Mystic River".
He received the DGA's Lifetime Achievement Award in 2006.
The nominations were the first for Anderson, the director of "The Grand Budapest Hotel", and Tyldum, who directed "The Imitation Game" .
Inarritu's nomination for "Birdman" is his third DGA nomination. He was nominated for the feature film prize for "Babel" in 2006, and won in 2012 for directing a Proctor and Gamble commercial.
The DGA Awards will be presented on Feb 7 at the Hyatt Regency Century Plaza hotel in Century City, LA.
Nominations for television programs, commercials and documentaries will be announced Wednesday.
Related:
'Boyhood, 'Grand Budapest' take top Golden Globes