New take on familiar flavors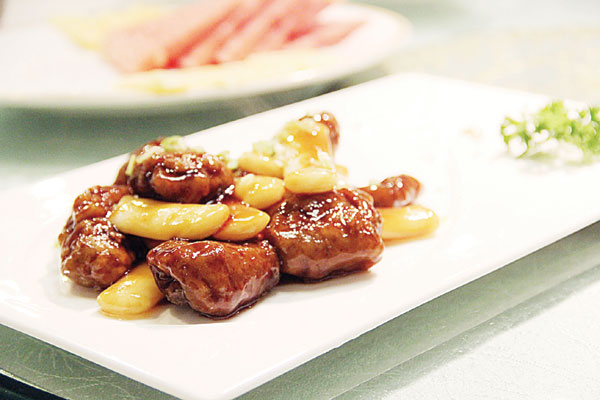 Not meat: Braised vegetarian ribs with rice cake is very Shanghai in style. [Photo provided to Shanghai Star]
It's cheap, cheerful, and as one Shanghai native discovers, perfectly suited to local palates. Xu Xiaomin digs in at Zao Zi Shu.
For the city's vegetarian diners, Zao Zi Shu or Jujube Tree, is one of the most popular dining options, thanks to its quality food and, despite recent rises, reasonable prices.
With an average cost of 100 yuan, diners can enjoy a decent meal, professional service and a nice environment.
I started my vegetarian experience at its Huaihai store, its first outlet in Shanghai which arrived in the city in 2001. At first I was amazed by its faux meat dishes. How could this stewed pork with soybean sauce actually be made of bean curd?
I believe faux meat is a unique feature of this restaurant though some vegetarian chefs and diners question if such dishes refute the true concept of vegetarianism. My advice is not to get too worked up about it, just view the dishes as a healthy way of eating. It is not necessary to argue about whether a bean curd should always look or taste just like a bean curd.
My three favorite dishes, to my Shanghai-rooted stomach, are all inspired by typical Shanghai cuisine.
The sautéed carrot and potato, or liu he bao huang, is actually a take on the famous stir-fried hairy crab meat and roe. It looks and tastes like minced hairy crab meat and roe, but actually, as its name suggests, it is made of carrot and potato as well as a kind of gluten to make it more chewy. A little minced ginger and vinegar add a touch of the sauce from real hairy crab.