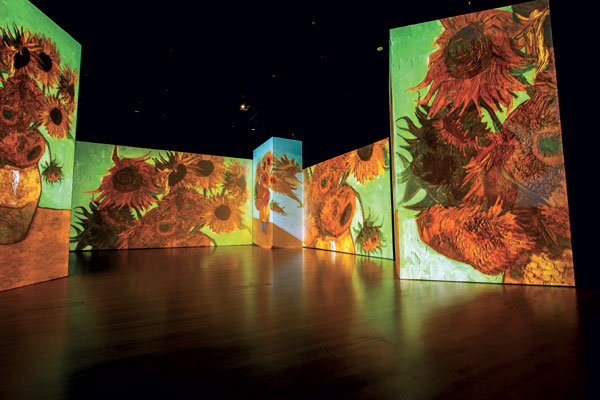 Vincent van Gogh's painting Sunflowers at the Van Gogh Alive show to be held in Shanghai and Beijing later this year. [Photo provided to China Daily]
A high-tech show takes the art legend's work to new dimensions in Shanghai and Beijing, Lin Qi reports. Lin Qi
This year marks the 125th anniversary of the death of Vincent van Gogh (1853-1890), and a multimedia show in Shanghai and Beijing will celebrate the Dutch painter's short-lived yet prolific career. The exhibition also aims to challenge the audience's preconceptions and help viewers better appreciate the artworks.
Van Gogh Alive creates a multi-sensory experience. Within 35 minutes, it projects more than 3,000 high-resolution photos on 40 huge screens - and the columns and floor of the exhibition venues. The images display Van Gogh's canvases, sketches, drafts and letters written mostly to his younger brother, Theo.
The Australian exhibition-producing company Grande Exhibitions designed and premiered Van Gogh Alive in Singapore in 2011. Technicians dissected and magnified different parts of Van Gogh's paintings to showcase how he handled layers of colors. They also animated some details. For instance, they made alive the crows in Wheatfield with Crows, the landscape believed to be Van Gogh's last work. And they activated a train in one of his drafts, which runs on the 4-to-7 meter-high screens.
The show will begin with displaying a series of Van Gogh's self-portraits, and narrate in five chapters his whole life, both in the Netherlands and France. His signature works that appear include Starry Night, Sunflowers and Cafe Terrace at Night.
The underscore - symphonies by representative musicians of Van Gogh's time - will immerse the audience into the surroundings, which enlightened the painter in art while oppressing him in life.
Van Gogh Alive has been realized with Grande Exhibitions' development of a Sensory 4 system. A group of computers activate projectors and a sound system to compose "a symphony of light, color and sound", according to the company's website.