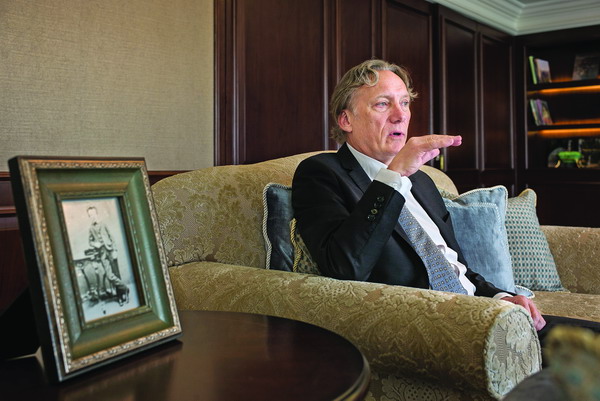 Vincent Willem van Gogh is ambassador of the Van Gogh Museum and adviser to its board of directors. Dai Ruoying / For China Daily
The Van Gogh Museum works hard to keep the legacy of one of the world's most important artists alive.
A recent invention to support its efforts are Relievos, high-end and state-of-the-art 3-D replicas of Van Gogh's paintings, which were made possible by a seven-year cooperation between the museum and Fujifilm Europe.
Last year, the museum released worldwide the Relievo collection, consisting of five iconic works by Van Gogh (1853-90): Almond Blossom, Sunflowers, The Harvest, Wheatfield under Thunderclouds and Boulevard de Clichy.
They are on sale in limited editions of 260.
Now the collection has come to Beijing. The five paintings are on show at the Manet Art Collection, an art space in an upscale club in the capital's western suburb, with a price tag of 250,000 yuan ($40,087) each.
"We released reproductions on canvas 15 years ago and finally, we have developed reproductions that are so close to the originals," says Vincent Willem van Gogh, who is visiting Beijing to promote the Relievos. The great grandson of Theo van Gogh, the artist's younger brother, serves as an ambassador of the museum and adviser to its board of directors.
Technicians at Fujifilm's lab in Belgium created the works with a sophisticated technology called Reliefography. The process closely monitored by the museum's curators combined 3-D scanning and high-resolution printing.
The paintings were fit into handmade reproductions of original frames, and attached on the back with seals from exhibitions where the original works had been shown.
"They (the reproductions) feature the same size, colors, brightness and texture as the original ones. People on both sides are very motivated to make it match the standards for our museum, and for the art of Van Gogh. It's quite an investment," Willem says.
The five paintings were selected not only because they are among Van Gogh's most celebrated works, but also because they represent several different stages in his development as an artist.