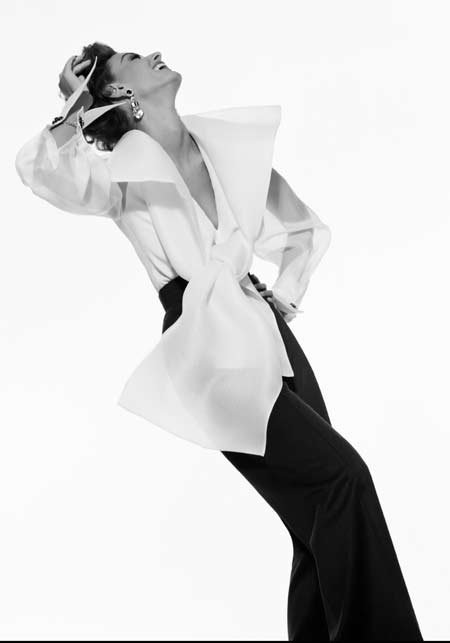 The show The Glamour of Italian Fashion 1945-2014 is dedicated to postwar Italian style. Pictured is an advertisement from the Gianfranco Ferre brand in 1991. Photos provided to China Daily
The Victoria and Albert Museum is playing tribute to Italian fashion with an exhibition showcasing thecountry's post-WWII style evolution. Samantha Conti reports from London.
The Italians have long been lovers of "lo stile Inglese", or English sartorial style, with its tweeds, herringbone fabrics and pops of silk and print. The English have returned the compliment with The Glamour of Italian Fashion 1945-2014, a show dedicated to postwar Italian style, currently on view at the Victoria and Albert Museum in London.
The tightly edited show-there are only 100 pieces of men's and women's fashion on display-is an earnest and enthusiastic tale of the rapid journey Italy made from postwar ruin to modern-day prosperity. The show begins with a large, black-and-white image of Florence in 1946, all rubble and crumbling buildings, and ends with a peacock's display of opulence, including the liquid white gown and showy gold dragon brooch from Tom Ford's fall 2004 Gucci collection, and Roberto Capucci's rippling fuchsia and green silk evening dress.
In between, there's jewelry, fur, cashmere, glitter and Pucci prints galore. On display are some of the Bulgari gems that Richard Burton used to woo Elizabeth Taylor while the two were filming Cleopatra in Rome the early '60s.
There's also a display dedicated to the seminal Sala Bianca fashion shows at Palazzo Pitti in Florence, a nod to men's tailoring, and myriad examples of Italy's technical prowess-from industrially produced knitwear to handcrafted Fendi furs.