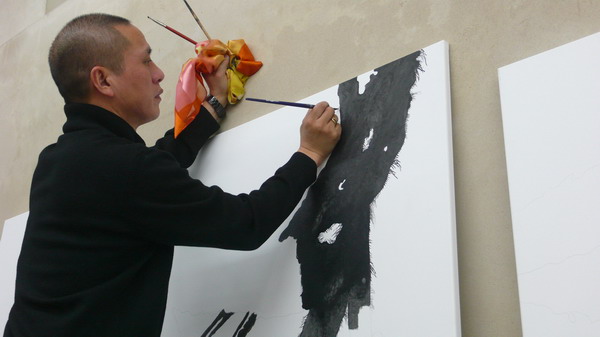 Shan Fan shows the charm of bamboo with abstract brushwork.  provided to China Daily
Abstract works fascinate people of varied cultural backgrounds not only because they challenge viewers' perceptions of art, but because every abstract work is exclusive and catches the fleeting emotions of its creator.
The Abstraction exhibition at the Today Art Museum lends more enchantment and depth to the realm of abstract art, both through the powerful pigments of the West and the reserved black-and-white of the East.
German artist Ingeborg zu Schleswig-Holstein and her Chinese artist friend Shan Fan collaborate in this intercultural dialogue to visualize their distinct views of abstraction, and let the audience decide whether their works have achieved resonance.
It is Schleswig-Holstein's third joint exhibition in China with Shan, whom she has known for nearly two decades, and her debut in Beijing. Using colors such as orange, yellow and blue in great volume, she constructs a spiritual paradise of passion and nobility.
"When looking at my works, people cannot help but ask me, 'Why are you so captivated by abstraction that you don't bother portraying the real happenings around you?'" says Schleswig-Holstein.
IF YOU GO 
10 am-6 pm, until April 12. Today Art Museum, 32 Baiziwan Lu (Road), Chaoyang district, Beijing.
010-5876-0600 Ext 100.