Demand for early batch of spring green tea drops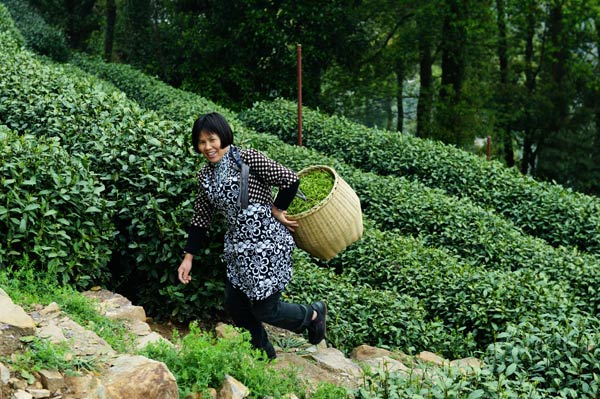 A woman carries freshly picked tea leaves in Longjing village in Hangzhou, Zhejiang province. The early batch of spring green tea is considered the best and most expensive kind of green tea. Photos provided to China Daily
Yang Guiquan, a tea grower in Hangzhou, has experienced ups and downs in his Longjing tea business since last summer.
The extreme heat and drought in July and August killed nearly 20 percent of his tea trees. But thanks to a joint effort of the local government, the tea industry association and his family, the total estimated output this spring will not decrease compared with last year.
However, with the picking of the early batch of spring tea coming soon, Yang is worried that his tea might not be as welcomed as it used to be.
Yang said that in 2012, more than half of his early-batch spring Longjing tea was booked at this time of year. However, the figure was no more than 20 percent this year.
"More than 60 percent of my clients for early-batch spring tea were purchasing for governmental bodies. Since the central government required thriftiness among governments of all levels, I don't think these regular clients will come to purchase my tea this year," Yang said.
The early batch of spring green tea is considered the best and most expensive kind of green tea, given its special fragrance and taste. It is usually picked before Tomb Sweeping Festival, which falls from April 4 to April 6. In ancient China, there is a saying that spring tea is as expensive as gold, and this tradition has been unchanged since ancient times.