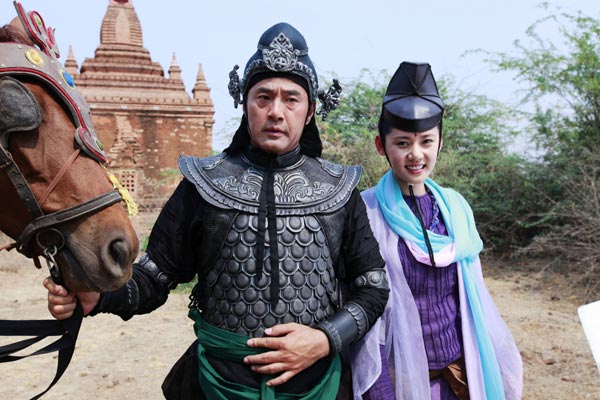 Musical Legend is a TV drama co-produced by China and Myanmar. Provided to China Daily
Chinese soap operas are making inroads in the fast-growing Myanmar TV market, and are poised to challenge the dominant position held by South Korean programs.
Marriage Battle, one of China's most watched TV dramas in 2010, in which the traditional roles of a husband and wife are put to the test by modern pressures, is currently one of the most-watched programs on Myanmar's national MNTV.
Two famous TV stars from Myanmar - Thiri Shinn Thant and Si Thu Maung - are dubbing the voices of the show's major characters.
A 10-member translation team from the Myanmar service of China Radio International, which introduced the teleplay abroad, is currently working around the clock in Nay Pyi Taw, Myanmar's capital, to complete the dubbing work.
By bringing their recording devices, technicians and dubbing directors, CRI has built for their Myanmar counterparts not only a professional sound studio but also a full set of expertise expected to benefit them in the future, says An Xiaoyu, director of CRI's center for Southeast Asian communications.
When foreign TV series are shown in Myanmar, they either have subtitles or a voice-over narrating the plot, An says.
The length of the traditional characters, however, makes it difficult to display long dialogue while keeping up with the plot, An says.
CRI introduced the first Burmese-dubbed Chinese TV drama in Myanmar last year. It was Jin Tailang's Happy Life, a marriage-themed urban comedy.
The play ignited heated discussions in Myanmar, An says, with audiences writing to express their particular interest in the dubbing that they say freed their eyes and helped them to focus on the plot.
No audience rating figures were collected to prove Jin's popularity, An says, but prices of commercials around the show's broadcast time have doubled according to MNTV's feedback.
Despite the two countries' long-standing ties, Chinese soap operas had very little presence in Myanmar, with only costume dramas occasionally being aired. Under the recent agreement between CRI and Myanmar's government, the radio station will translate and introduce two or three Chinese TV dramas every year.
"It used to be very hard for Chinese TV dramas to enter Myanmar. It (Jin) has made a breakthrough and been able to win Myanmar's people's favor," An says.