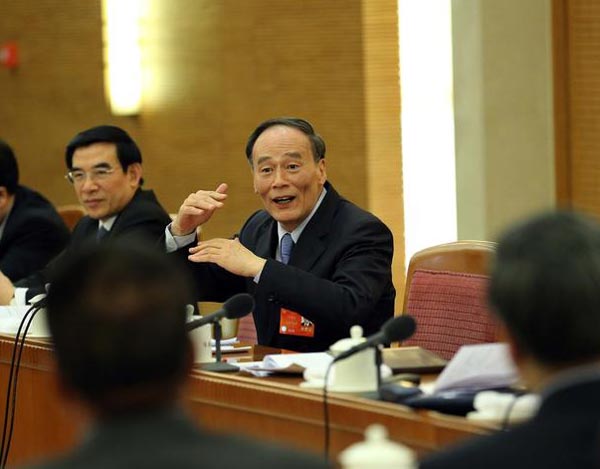 Secretary of the Central Commission for Discipline Inspection Wang Qishan attends a deliberation meeting with the Beijing Delegation Team in Beijing on March 5, 2014. [Photo/Xinhua]
China's top-ranking politicians were not immune to the runaway success of "My Love from the Stars," with the hit Korean show earning a playful mention as motivation for Chinese writers, actors and directors.
It seems even the highest ranks of China's government were unable to resist the gravitational pull of "My Love from the Star," the red-hot Korean melodrama that has held millions of Chinese viewers tightly in its orbit.
And it appears that even top officials involved in China's annual "two sessions" meetings were like many other Chinese who couldn't help but discuss the hit show with their friends at work.
In fact, the ultra-popular Internet program that concluded its 21-episode run on February, made a surprise appearance at the dual meetings of the National People's Congress and Chinese People's Political Consultative Conference.
As it happens each year, representatives gathered in Beijing and discuss the future goals and challenges of China, including the country's cultural development. This is where "My Love from the Star," the love story between a 400-year-old space alien posing as a professor and famous South Korean actress, came into the picture.
During discussions on March 5, Wang Qishan, secretary of the Central Commission for Discipline Inspection, asked a panel whether they knew the name of hit Korean drama. When the floor remained unresponsive, he joked that he was surprised the officials didn't know.