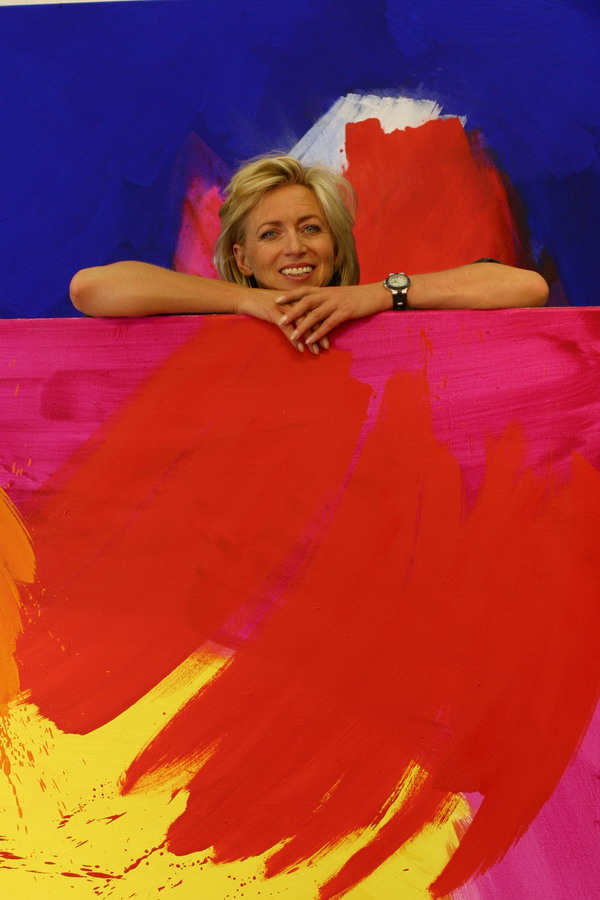 The German artist Ingeborg zu Schleswig-Holstein  Provided to China Daily
An intercultural exhibition between a German and Chinese artist at the Today Art Museum shows why abstract art is fascinating -- every piece is original. The German artist Ingeborg zu Schleswig-Holstein's works with vivid hues while Chinese artist Shan Fan's black-and-white ink paintings enrich the connotations of an abstract style.
"People ask me after they look at my work, 'Why are you so obsessed with abstraction, completely ignorant of the real world surrounding you?' It is because I prefer presenting my inner world," says Schleswig-Holstein. The female German artist likes to construct an invisible but brand new world with rich, powerful colors -- blue, orange, pink and yellow in her sizable oil paintings to make an impression on viewers with different backgrounds
While her long-time friend Shan Fan, who lives and works in Berlin, explores the abstract side of traditional Chinese art by painting bamboo, a symbol that has abundant meanings from his own culture.
"I gaze at the black ink for a long time when painting. I am caught by it, the black, which becomes a hole and sucks my soul. The depth and texture of the black color and the ink bamboo evoke my poetic emotions," Shan said.
The exhibition runs until April 12.