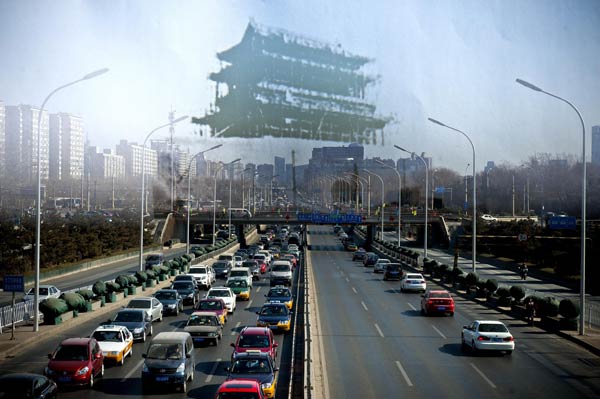 Beijing's old city gates rise again in the photos of Li Fei, giving viewers a glimpse of what once was and what has been lost in the metropolis'drive toward modernization. Provided to China Daily
These photos seem a little eerie at first sight: Apparitions of ancient gray towers that disappeared more than half a century ago rise between Beijing's tower blocks above busy roads.
But these phantoms are the result of technical wizardry used by photographer Li Fei to "revive" the nine long-gone city gates.
The 33-year-old superimposed a printed black-and-white photo of each city gate in all its former glory against a picture of the same place as it appears today, doing the upper and lower parts separately, resulting in the gates looming between real buildings with the busy Second Ring Road below.
Most sites of the city gates today are located on the Second Ring Road surrounding the inner city, which is packed with high buildings and crowded overpasses.
Beijing, the country's capital since the 13th century, once had 20 city gates, which were built as key passages for different social classes - including the royal family, civil and military officials, ordinary people and even criminals - to come and go from the imperial city.
But the city gates were pulled down with the city wall to build new roads and expand the metropolis.
Records show the gates were more complicated than they appeared. A city gate, topped by a two-story tower, usually comprised a gatehouse, an archers' tower and a barbican.