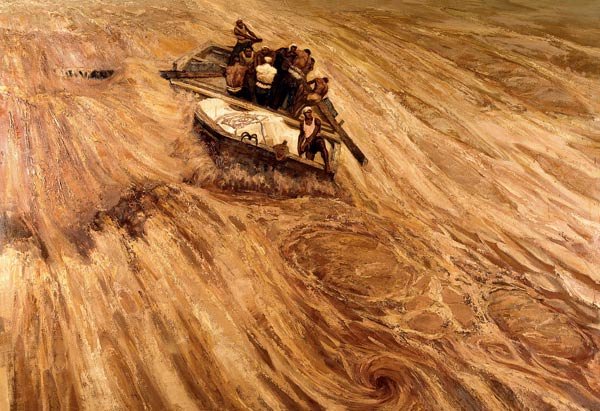 The oil-on-canvas work Breaking the Waves in Currents was created by Du Jian in 1963. Photos provided to China Daily
The work of China's contemporary art masters may be familiar, but art patrons can see its genesis in a new exhibition of their earliest works. Lin Qi takes a look at what these painters were doing in art school.
People may have seen the works of noted Chinese contemporary artists at galleries, art fairs and auctions that cost hundreds of thousands of yuan, sometimes even millions. Now an exhibition at the nation's top art museum shows some of these celebrated artist' earliest works created when they were only teenagers.
The exhibition to mark the 60th birthday of the Central Academy of Fine Arts' affiliated high school offers a glimpse into the start of pioneering artists, such as Xiao Lu, Liu Xiaodong, Xia Junnan and Qiu Xiaofei. Their early drawings display their immature handling of brushes, but give a hint of how these artists would develop their distinguished styles.
The Fine Arts School Affiliated with the CAFA was founded as New China's first professional art school. It cultivated the republic's first generation of art educators and painters.
"The exhibition looks back on not only the regularization of China's art education after 1949. It also reflects upon and salutes the construction of New China," the school's headmaster Ma Gang says.