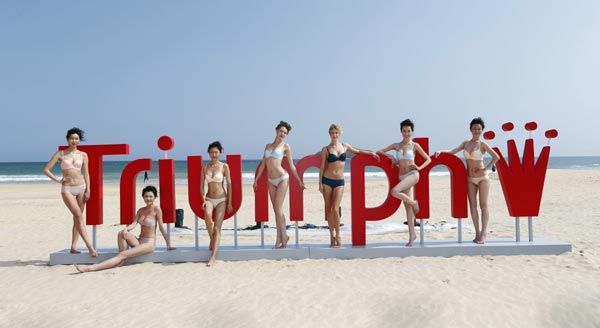 German label Triumph still faces challenges in expanding its Chinese market, though it opened its first Asian branch in Hong Kong in 1960 and established a presence on the mainland in 1985. Photos provided to China Daily
German innerwear brand Triumph is hoping to re-stitch the embryonic bra market in China. Matt Hodges investigates what lies beneath.
Chinese women are notoriously stingy when it comes to innerwear, and getting them to splurge on bras and lingerie remains a daunting challenge for brands like Germany's Triumph, Japan's Wacoal and China's Gujin, despite their strong presence at department stores nationwide.
"The market for sophisticated underwear products in China is quite nascent," says Matthew Crabbe, director of Asia Pacific Research at Mintel.
"The idea of buying lingerie as a fashion statement is only just starting to happen. Similar to the cosmetics market, Chinese women are still quite wary of looking showy or overly sexy."
There are more than 600 million female consumers in the country, indicating huge future rewards when purchasing levels in this segment begin to track Asian neighbors like Japan and South Korea.
However, more visible designer accessories that denote higher social status, such as Hermes silk scarves, Louis Vuitton purses and red stilettos by French designer Christian Louboutin-now flavor of the month in China - still reign supreme for those with the spending power.
"Chinese women prefer to buy bags," says Louis Lin, China CEO of Triumph, one of the first companies to introduce women to bras 128 years ago. Founded in Germany, it opened its first Asian branch in Hong Kong in 1960 and established a presence on the mainland in 1985.
"The big challenge for us is that the market consumption of bras in general is still very, very low compared to other Asian markets," adds the Taiwan-born Lin.
"Department store CEOs always ask me, 'How come our business is so small in China?'"
Even though the market is still "conservative" and "modest", "things are changing rapidly", says Crabbe. Mintel's research shows that China's underwear market has been growing by 20 percent a year recently, with the bulk of customers buying lingerie aged 24-35.
"The potential for growth is really strong moving into Tier-two and - three cities as consumers catch up in terms of spending power and trade up their products," he says.