Trend watch: Catherine and her hats
Britain's Prince William, his wife Catherine, Duchess of Cambridge and their son Prince George arrived in Wellington, New Zealand on April 7, 2014. The 8-months-old Prince's first "diaper diplomacy" proves to be very effective. At the same time, Catherine's fashion has come under the spotlight, yet again.
The Duchess of Cambridge has been known for her sense of fashion, particularly in her choices of hats, even before she was married to the future King of England. Let's recap some of her most memorable looks.
Pillbox hat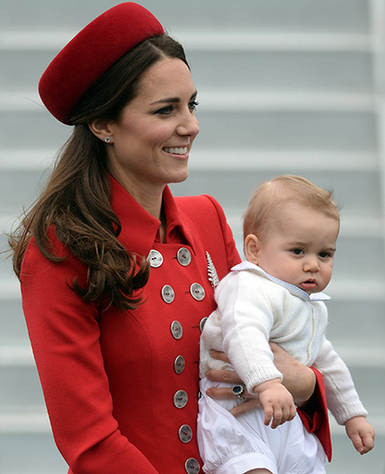 Catherine, the Duchess of Cambridge, holds her son Prince George after disembarking their plane with her husband Britain's Prince William after arriving in Wellington April 7, 2014. The Prince and his wife Kate are undertaking a 19-day official visit to New Zealand and Australia with their son George. [Photo/Agencies]