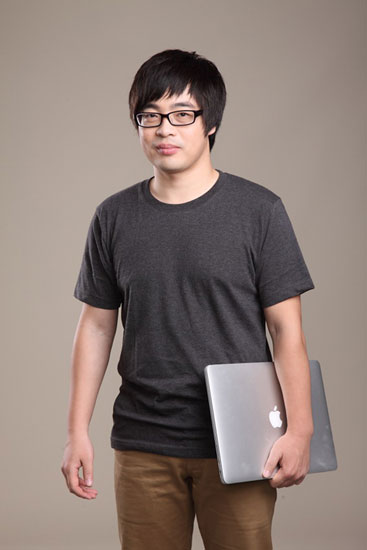 Yue Xuqiang,co-founder of Mogujie.
The dominant question Yue Xuqiang is asked since he co-founded Mogujie, a social shopping service dedicated to the fashion conscious, in February 2011, is how can you compete with Taobao, Alibaba Group Holding Ltd's flagship e-commerce site?
The question springs to mind because the Taobao platform accounts for more than 95 percent of China's customer-to-customer online market.
But for Yue, a former employee of the colossal Taobao platform, there is always room for competition, which can meet unique customer demand, no matter how big their rivals are.
"People are becoming more demanding. It is impossible for one platform to satisfy all," said Yue.
Despite the fact that hundreds of thousands of shoppers use Taobao, it does not necessarily mean that young women who love fashion can easily find what they want on that platform.
"They want to know what color is 'in' for this season, or how to dress for any occasion. They need fashion advice, but Taobao, primarily a marketplace, is not good at providing advice," he said.
Eyeing what they see as unfulfilled demand, Yue and three other partners founded Mogujie, basically an online fashion community. Registered users are allowed to post their favorite clothes, shoes and accessories, and other users can comment on their postings.
Women's passion for fashion and a desire to share photos of themselves wearing beautiful clothes has made Mogujie one of the leading social shopping service websites in China with more than 75 million registered users as of March. As many as 6.3 million unique visitors log in to check the latest fashion items every day, the company said.
Since many of the clothes Mogujie users posted were bought from Taobao, Mogujie made much of its revenue from referral commissions, a large percentage of which was from Taobao retailers.
In October, Mogujie launched its own online shopping channel by inviting e-retailers to set up on its platform.
According to Mogujie, it had nearly 3,000 online shops as of March compared with the millions of shops on Taobao. Yue said they were confident of maintaining the number of Mogujie's e-shops to around 3,000 in 2014.
"Our business philosophy is different from that of Taobao's. Taobao wanted a huge number of e-retailers because they aimed to build a big marketplace to attract online shoppers.
"However, as a fashion website which has already established a stable user group, we want to control the number of e-retailers on our site so that they can have a decent profit margin," Yue said.