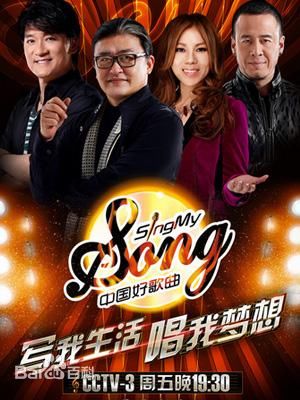 Poster for Chinese original talent show "Sing My Song." [Photo/Baidu]

British broadcaster ITV Global Studios announced on April 10 that it purchased the format rights to "Sing My Song," the first original Chinese talent show to be exported.
Unlike previous reality TV shows, including the hugely popular "Voice of China" that chooses the best singers, here, the best songwriters are sought after. Four accomplished singer-songwriters within China's music scene participate as judges in the show, including Liu Huan, who was also a judge on "Voice of China."
"It's not to choose a singing star, but to choose a good original song. I hope the show can help promote good new songs," said Liu.
"This platform has created many emerging songwriters who can now have their songs heard. Apart from the audience who can boost their confidence, they can now go on and create more songs. We need this platform," said Emil Chou Wakin, a judge and a popular folk singer based in Taiwan province.
"Sing My Song" signals a new direction for talent shows, highlighting contestant creativity instead of focusing on their reproductions of existing work.
The show aired on China's national channel CCTV-3 earlier this year and has since attracted 480 million viewers throughout. 37 percent of the total audience is made up of native Chinese viewers, and the show's popularity has zoomed CCTV-3's slot ratings by 59 percent year-on-year.
The show has also swept the cyber world. As of April 15, the program's official Sina Weibo account has attracted more than 574,000 followers, garnering 34 million comments and nearly 20,000 likes.
Mike Beale, director of International Format of ITV Studios, called the transaction a "fantastic example of the benefits of a British-Chinese creative partnership."
"In 'Sing My Song,' Star China (producer of the show) has created a prime entertainment show with proven appeal to millions of viewers in the TV business' hottest market," said Beale.
Read on for a list of hit TV shows that China imported.