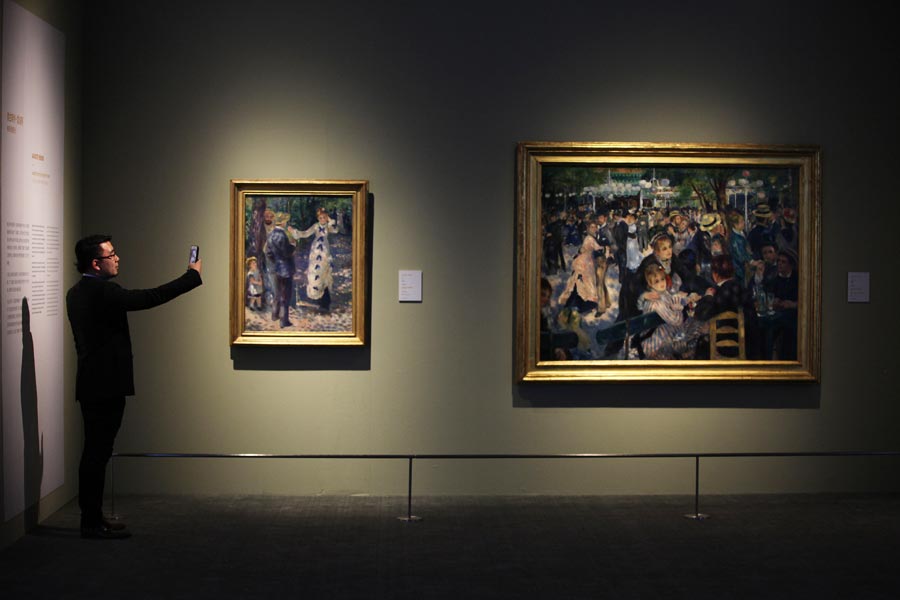 A visitor takes photos of Pierre-Auguste Renoir's paintings, The Swing (l) and Dance at Le Moulin de la Galette (r) at the National Museum of China in Bejing April 11, 2014.  To commemorate the 50th anniversary of the establishment of diplomatic relations between the People's Republic of China and France, ten artistic masterpieces from France will go on display at the National Museum of China for the first time from April 11 to June 16. [Photo by Jiang Dong / China Daily] 
It's an exhibition that tells the story of art, along with the history of France. And the 10 hallmark paintings celebrating the 50th anniversary of Sino-French diplomatic relations made their long-awaited debut at the National Museum of China on Friday.
The prestigious exhibition marks the first time the paintings have been shown in China, and for some of them, this is the first time they have ever left France.
The paintings narrate a brief version of French art history and are fine examples of various schools and art movements spanning from the Renaissance to the post-World War II era.
"Portrait of Francois I" brings viewers back to the origin of the art patron and exemplifies the roles a nation and its leaders play in collecting, protecting and boosting art culture.
Pablo Picasso's two distinct works from the early and late periods of his career reflect the avant-garde trend of 20th century France.
Other work from renowned artists such as La Tour and Renoir demonstrates their mastery of light and color.
The exhibition also marks the first time that the five world-renown French museums have jointly presented an exhibition abroad. Hence it provides a rare chance to glimpse into French public museums which are ranked among the world's most popular tourist destinations.
The exhibition will run till June 16.