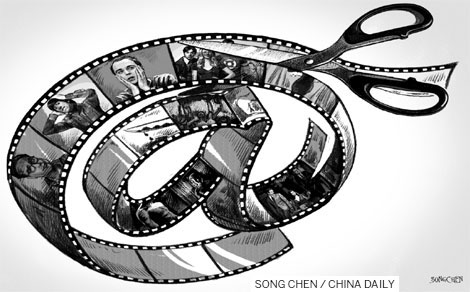 Four popular American TV shows aired on Chinese video websites have been blocked "for policy reasons", creating a controversy over regulatory transparency.
The four shows - The Big Bang Theory, The Good Wife, NCIS and The Practice - were being aired through major online video providers and have attracted tens of thousands of followers in China, who suddenly found their favorite shows inaccessible over the weekend. What they could see on the screen was only: "We cannot provide the program for policy reasons".
The ban has left many Chinese viewers bewildered. According to Sohu's website, which had introduced The Big Bang Theory, the episodes have been viewed 1.3 billion times.
So far, no regulatory agency or company has said why the shows have been banned. Media reports, though, say that regulators issued the ban.
Internet users have expressed disappointment over the move, questioning why shows such as The Big Bang Theory, which they claim is "quite normal" and contains little pornography or violence, should be banned.
Some netizens even suspect commercial motives behind the ban. "If The Big Bang Theory is banned, how can the China Central Television be allowed to air the Game of Thrones?" asked one Internet user through a micro blog at Sina.com. Netizens argue that the ban could be intended to drive viewers from shows such as The Big Bang Theory to the State-run CCTV, which telecasts the Game of Thrones.
Without official clarification from regulatory agencies, such guessing games will continue and could jeopardize the credibility of regulators, even if their intention of banning the shows is to protect our children.
What those opposed to the ban are against may not be the policy itself. With China yet to have a grading system in place, people generally would not like movies or TV programs containing too much violence or sex to be aired for fear of their children falling victims to such contents. If TV shows have such contents, it is understandable that they have to be subjected to proper screening from regulators.