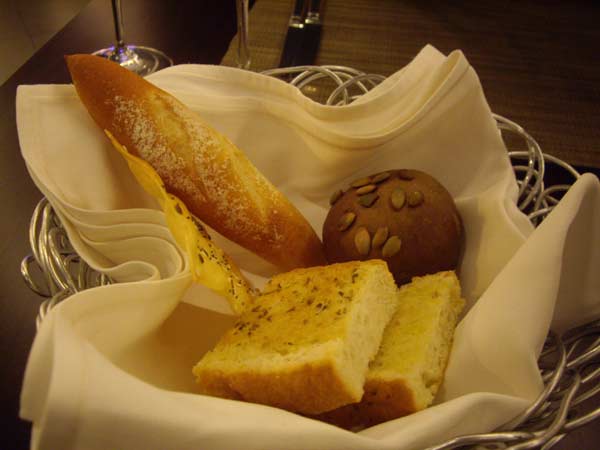 The bread basket is a highlight in IFT Educational Restaurant in Macao. [Photo by Rebecca Lo/China Daily]
Macao's steady stream of inbound tourists makes booking mandatory to secure a table in practically every decent restaurant.
Despite the somewhat out-of-the-way locale and even after many years of operation, IFT Educational Restaurant is still one of the hottest places in town. That made me all the more determined to try it.
I finally got a chance on a recent business trip and had a friend, jewelry designer Dora Tam, join me. Macao is notorious for being a place where it's difficult to flag taxis during rush hour, so I decided to bite the bullet and walked to the restaurant from where I thought was a nearby bus stop. That turned out to be a 20-minute hike followed by a steady climb up to the summit of Mong-Ha Hill. Needless to say, I worked up sufficient appetite to warrant the long anticipated meal at IFT.
Dora had mentioned that the restaurant was recently renovated. The new look is contemporary with a lounge area near reception, a bar to one side and generously spaced tables, but a bit '80s looking. Nevermind: We were there for the food.
After being seated, the young server attending our table presented one of the most enticing bread baskets I had ever encountered. Bread is something that Macanese do splendidly, and the bread basket is usually up to snuff even in some of its dodgiest restaurants.
Ours featured four different types: a crunchy wafer with sesame and caraway seeds, a mini French baguette, a pumpernickel roll with sunflower seeds and thick slices of rosemary-flavored country loaf. All were deliciously different.
When I asked for the wine list, our waitress came back with her instructor, who explained to her how to present a wine list and beckoned to the nearby sommelier for any help if required. "All first-year students work for seven weeks on site as part of the training program here," she explains.
Although our waitress was cautious and made the occasional mistake, she was very attentive and keen to ensure that we had a good time. She got top marks for attitude, which can be surly even in some of the city's Michelin-starred establishments.