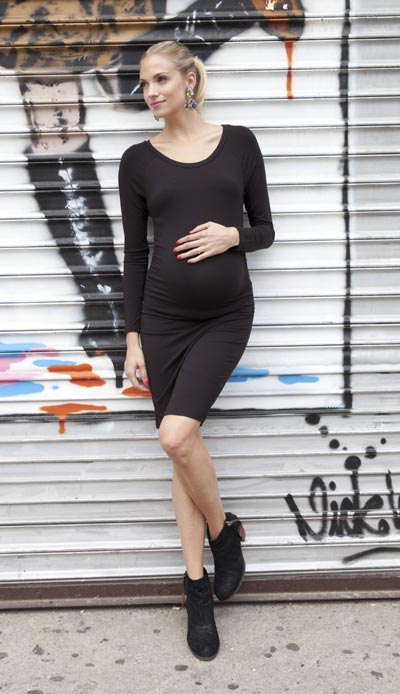 Mayarya provides a variety of maternity brands. Pictured is a Rosie pope black dress.[Photo provided to chinadaily.com.cn]
It is a problem that many women share. When Tokyo-born, Hong Kong-based fashion merchandiser Reika Shetty was expecting her first child, she found that her wardrobe diminished dramatically.
"Nothing fit right," Shetty sighs. "The traditional maternity dresses available weren't really my style, but I had to buy them. All my expectant friends complained about the same thing. We didn't want to spend money on clothes that we would only wear for a few months. Extra large size fashions from shops such as H& M don't always work. We were all looking for the same thing: bump friendly, stylish apparel that we can continue wearing after giving birth."
For the Swiss high school and Boston university-educated business major Shetty, fashion has always been her passion. "I grew up in Shibuya," she says, referring to one of Japan's most fashion-forward shopping districts. "When I used to work in finance on New York's Fifth Avenue, I would stare enviously down at all the beautiful boutiques surrounding my office."
After realizing her true calling, Shetty switched gears by interning at Soho boutique Kina Abate. "The shop caters to celebrities and was made famous by TV shows such as Sex in the City." She worked there for three years before becoming a head buyer for a multibrand boutique in Los Angeles which did a lot of business with Japan. She was based in Tokyo for three years and worked with US-based designers such as Jason Wu, who is best known for dressing America's first lady Michelle Obama.
Shetty and her husband relocated to Hong Kong four years ago as a result of his job transfer. The week that she was going to start her position as a buyer for Lane Crawford, she discovered that she was pregnant. "My new job required a lot of traveling," she says. "I thought that it was better to focus on my pregnancy."
She became a small business owner during the pregnancy of her second child. Mayarya, a portmanteau of her two kids' names, 32-month-old Maya and 12-month-old Arya, has two multibrand outlets in Hong Kong.