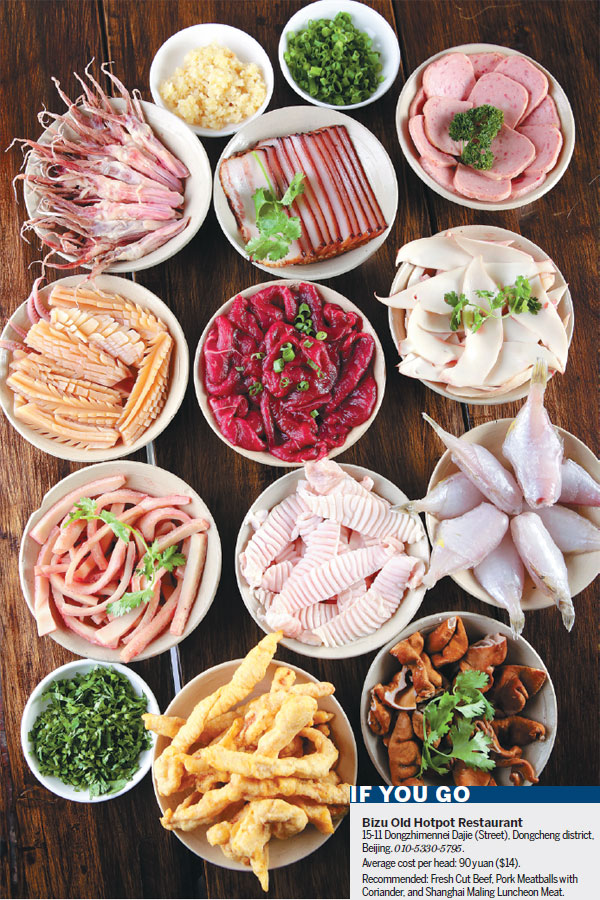 Bizu Old Hotpot Restaurant offers diners a variety of ingredients, including various animals' internal organs. [Photo by Ye Jun / China Daily]
Ever wondered what the difference between Beijing and Chongqing hotpot is? Its all in the weird and wonderful things you put in the pot. Ye Jun visits a restaurant that can trace its roots back to the beginnings of the popular cuisine.
Even as a frequent restaurant visitor, I did not recognize a few of the items on offer at Bizu Old Hotpot Restaurant. I had to ask the owner, Chenma, or Mother Chen, what they were.
White slices of meat with clear wrinkles were actually the upper palate of a pig. A small white fish was called hao'er (rat) fish, because of its shape. A bowl of very bright, fresh-looking meat was fresh-cut beef.
I already knew many other ingredients on the table - cow's tripe, beef windpipe, duck intestines and pork chitterling.
The menu has two other ingredients that can divide option - pork brain and beef "whip" (penis). We decided not to try.
Animal's internal organs are an important factor that differentiate Sichuan hotpot from Beijing hotpot - but Sichuan hotpot eateries also serve Beijing-style offerings - lamb, beef, bean curd, mushrooms and vegetables.
Of course, Chongqing-style hotpot also has a spicy base soup. We ordered the twin soup pot, with non-spicy and medium spicy base soups. But few people even touched the milder side - the spicy soup was so much tastier.
Floating on the surface of the dark red spicy soup are red chilies and tongue-numbing Chinese peppers, which stimulate the appetite.
Chongqing people are probably the most open in terms of what they eat in a hotpot. The reason for that can only be explained by looking to the past.
The story of Bizu Old Hotpot Restaurant, which opened one month ago on Guijie food street, otherwise known as Ghost Street, can help people understand the history of the cuisine. Owner Chenma says the restaurant is named Bizu, "first originator", because her grandfather was one of the first in Chongqing to open a hotpot restaurant.