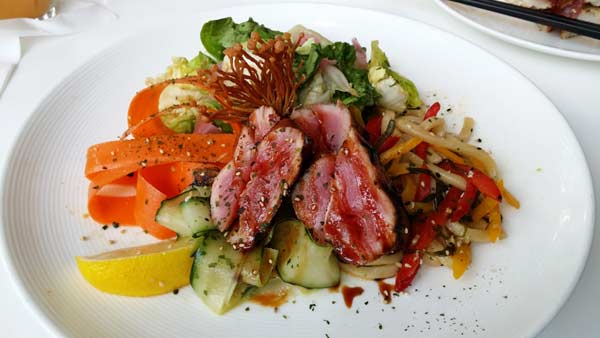 Ahi tuna salad [Photo by Ye Jun/China Daily]
With two new branches in Beijing, Element Fresh is now serving up a 'fun and tasty' menu that's all about health in 21 restaurants around the mainland, Ye Jun reports.
Eating healthy is a concept many restaurants hope to adopt. But very few restaurants concentrate on serving healthy fare as a successful business model. Element Fresh, however, has been an exception. Founded by Scott Minoie from the US city of Boston, the eatery has grown in 12 years to 21 branches in China: six in Beijing, 12 in Shanghai, and one each in Guangzhou, Nanjing and Suzhou. Its fifth and sixth branches in Beijing has recently opened in Park View Green and Kerry Center.
"Being healthy should not be complicated," says Frank Rasche, managing partner of the company, referring to the fact that categories of foods on the menu are simple. "The question is what to eat first."
After a big glass of juice, or a bowl of salad, one would naturally order less.
Rasche, who is from Germany, says the restaurant prepares vegetables, pastas and lean meat without using MSG-and cooking with a minimum of oil.
The menu features 18 juices, 12 salads, and smoothies, all very fresh-looking. Food preparation is globally inspired, but there is a special Asian set providing familiar dishes for local customers. The diner menu has an extra section proffering more formal items, such as beef fillet, lamb, roast chicken, grilled shrimp and salmon.
Salads are topped with meats such as BBQ pork, Thai-style beef and seared tuna, and feature a variety of fresh vegetables.