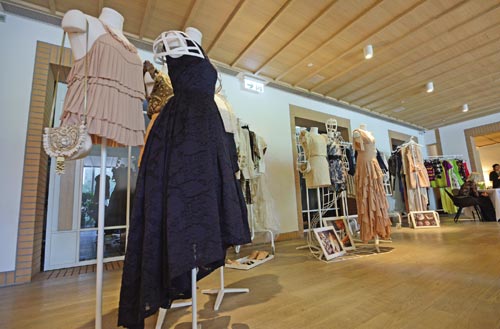 H&M's Conscious and Conscious Exclusive collections demonstrate the retailer's devotion to lead the industry in making sustainable fashion mainstream. Photo provided to China Daily
Fashion observers frequently criticize fast fashion for not being eco-friendly. However, one of the world's best-known high street brands, H M, is committed to going green.
The company introduced its Conscious and its Conscious Exclusive collections to Chinese customers on April 10.
As the names suggest, these two collections are trying to raise the public's consciousness on environmental protection in the fashion industry.
The term "fast fashion" was first used by retailers to describe designs that move quickly from catwalk to stores.
Produced in large quantity, they are comparatively cheaper, yet still stylish. For consumers, it is a good thing: They can buy many items at good prices and can discard those garments and buy new products when the trends move on. The cheap and disposable nature of the clothes has also lead to the term "McDonalds fashion".
Fast fashion has come under criticism, with people blaming it for pollution, poor craftsmanship and its focus on short trends instead of classic styles.
Conscious and Conscious Exclusive collections, however, are breaking the stereotype of fast fashion. Garments from these collections are not only stylish, but also eco-friendly. Materials used are organic cotton, recycled cotton, recycled polyester, hemp and Tencel, a biodegradable fabric made of wood-pulp cellulose.