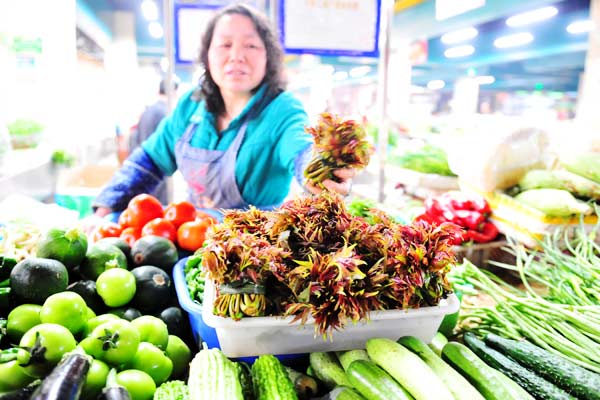 Chinese toon shoots are the best-selling vegetables in fresh markets across the country during the springtime. [Photo provided to China Daily]
When winter lifts and the earth comes alive, Chinese gourmets search for nature's leafy green herbs and vegetables to get busy in the kitchen. Liu Zhihua reports.
When spring hits, people pile into parks. The air is sweet and warm. Tender green shoots and colorful flowers are in bloom, and leafy plants thrive on the ground.
But for Chinese, the bucolic scenery is not only for looking at.
People take advantage of spring to feast on fresh green edibles that grow in the fields, parks and community gardens.
For Zhao Tangwei, a Chinese student studying in the United States, spring is always associated with special food from trees.
"When I was young, my mother often picked buds and shoots from trees in our courtyard to cook," Zhao says.
"They tasted special, quite different from what we usually had."
Zhao grew up in Beijing, and her mother would prepare xiangchun, or Chinese toon shoots, every spring.
In spring, Chinese toon shoots are one of the most popular foods in China.
The tree grows tall and straight, and can be seen almost everywhere in the country, from street corners to vast wildernesses to cultivated fields.
Its deep maroon-tinged buds and tender leaves are rich in lipids and are strongly aromatic.
Traditional Chinese medicine teaches that the tree's buds, shoots and young leaves are warm and detoxifying, and thus are a nutritional, healthy gourmet vegetable.
People usually fry xiangchun with eggs or tofu, or stuff them into dumplings, or simply make a salad.