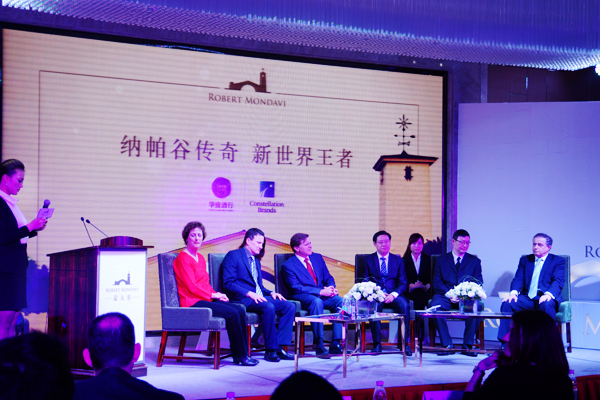 Representatives from China's VATS Liquor and Constellation Brands from the United States announce an agreement to introduce Robert Mondavi wines to China in Chengdu, on March 26. [Photo by Ye Jun/chinadaily.com.cn]
Chinese wine consumers now have easy access to another high-quality American wine. On March 26, VATS Liquor and Constellation Brands Inc announced a long-term agreement to develop the Robert Mondavi brand, the world's number-one selling table wine label, in China.
VATS Liquor is a top liquor chain store, trusted for stocking authentic brands in China. It is the agent and distributor of such big-name brands as Moutai, Wuliangye and Lafite.
Constellation Brands is a leading international producer and marketer of beer, wine and spirits with operations in the United States, Canada, Mexico, New Zealand and Italy. Founded in 1945, the company has more than 100 brands in its portfolio and sells in approximately 100 countries.
Wu Xiangdong, chairman of VATS Group and VATS Liquor, said the mission of the company is to offer reliable channels for consumers to buy authentic fine wine and spirits. He welcomed Robert Mondavi wines, "the crown jewel of Constellation's wine portfolio", as part of VATS's range.
"It will satisfy the growing wine consumption of the middle class, and escalate the wine business development of VATS Liquor," he said at a press release in Chengdu, Sichuan province.
Rob Sands, president and chief executive officer of Constellation Brands, called the cooperation "an exciting step forward" in the company's international strategy.
"VATS Liquor is the right strategic partner for us to work with to build our Robert Mondavi brand portfolio in China," he said.
China is the fifth-largest wine consumption market and is projected to be a key driver of total wine growth in the next five years. Wu said the vision of VATS Liquor and Constellation is to make Robert Mondavi the number one premium wine brand in China.