Spanish wines take great leap forward in China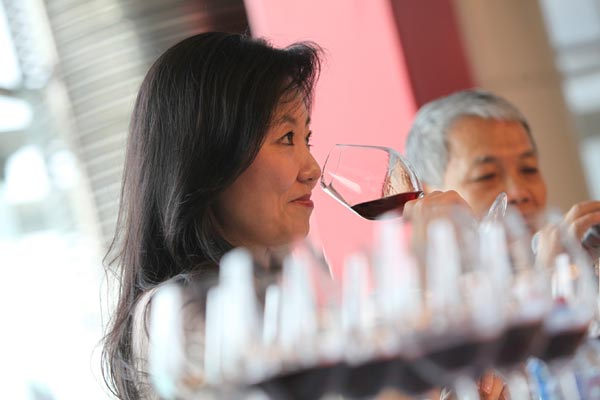 Many Chinese consumers have been eager to sample imported wines. Spanish lebels are becoming more popular. Photo provided to China Daily
Grape-wine consumption in China plateaued in 2013 after spectacular growth between 2008 and 2012, but you won't be hearing Spanish wine producers singing the blues. Spanish wine is up, up, up-the country has passed the United States, Italy and Chile since 2008 in export volume to China, moving into third place in 2012, according to a recently released study by Vinexpo and International Wine and Spirit Research. That's about 200 percent growth in the past year, and 517 percent since 2008. Spain shipped 3.27 million 9-liter cases to China in 2012, trailing only Australia (4.48 million) and France (15.46 million).
Wines from the Rioja region were out in force to keep up the momentum this week, with invitation-only tastings drawing big crowds to hotel ballrooms in Beijing, Shanghai and Guangzhou. At least 74 wineries participated.
Meanwhile, the economic and commercial office of the Spanish embassy in Beijing hosted a seminar on the history and process of making sherry-followed by a tasting-with the Jerez Chamber of Commerce on Tuesday.
While much is written about Chinese drinkers' growing affinity for European-style grape wines, 80 percent of wine consumed here is still made from sorghum and such. This month, author/blogger and baijiu aficionado Derek Sandhaus is in China with a new book, Baijiu: The Essential Guide to Chinese Spirits, telling audiences in Shanghai and Beijing how to find the good stuff, its history and its traditional role in arts and culture. The final talk, at The Hutong Kitchen in Beijing, will be followed by baijiu tasting and a baijiu cocktail hour with recipes developed by cocktail master Paul Matthews.
Shanghai: 6:30 pm March 17, AmCham Young Professional Forum mixer, 180 yuan ($29) for members, 280 for non-members; Mint Club, 24 Floor, 318 Fu Zhou Road (close to Shan Dong Middle Road); www.amcham-shanghai.org.
7 pm, March 18, talk and tasting; Yuan bar, 17 Xiangyang Bei Lu, near Julu; 021-6433-0538.
Beijing: 6 pm, March 19, 80 yuan; Beijing Bookworm, bookwormfestival.com. 010-6586-9507.
6:30-8:30 pm, March 21 at The Hutong Kitchen, 100 yuan with advance online booking or 150 at the door; 1 Jiu Dao Wan Zhong Xiang Hutong; thehutongkitchen.com or 159-0104-6127.
With the popularity of French wine in China, it's a wonder it's taken so long, but here it is-a wine shop and education center in Beijing dedicated solely to France's Bordeaux region. La Bordeauxtheque is on the top floor of the new French department store Galleries Lafayette in Beijing's Xidan district. It is the younger, more laid-back sibling of the La Bordeauxtheque store in the Paris branch of the department store.
"La Bordeauxtheque in Paris, it's pretty amazing, the design, the showcase of the wines," says the Beijing store director Julien Laracine. "But it's quite intimidating, if you know nothing about wine you might be scared of the place, it looks like a church. Here it's much more Chinese with the wooden floor, the discrete room, the wine bar."
The aim here is education. Despite France being one of the better-known wine regions for Chinese, Laracine says the store wants to be a focal point for learning about wine from the Bordeaux region.
"Chinese people are modest enough, when they don't know, to ask questions and be curious-and they are learning fast," says Laracine. The shop does feel a little like a modern museum (thankfully with better drinks) with a wall map detailing the Bordeaux region and a bar table that has a selection of bouquet-snifters to teach the art of smelling or "nosing" a wine. Visitors also have the option to try before they buy.
"We welcome people to taste wines by the glass, we do tastings in the shop and wine classes. But we do things in a very casual way," Laracine says. "We want people to understand that wine is fun and it's approachable as well."
IF YOU GO
10 am-10 pm daily, inside Galeries Lafayette Mall, 110 Xidan Beidajie, Xicheng district, Beijing. 010-5979-8998.