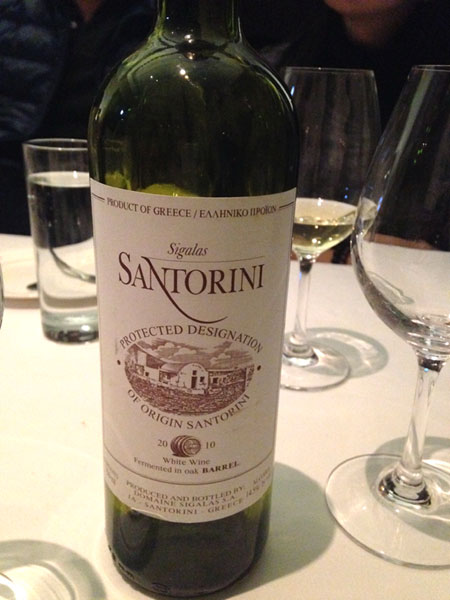 A bottle of boutique vintage from Santorini in Greece.[Photo by Mike Peters/China Daily]
The 2014 edition of Vinexpo Asia-Pacific - the annual wine and spirits expo held in Hong Kong - will be bigger and better than ever, promised new chairman Xavier de Eizaguirre. The three-day trade show from May 27-29, which is open to the public on the final day, expects to break records both in show size and visitor numbers.
There's little doubt about the first part: The exhibition will occupy 50 percent more floor space, and it's already 92 percent reserved, Eizaguirre told a Beijing news conference this month. Out of more than 200 new exhibitors committed so far, almost half are French. That should be a big draw for the Chinese audience, many of whom cling to the proven quality and status of chateaux, Bordeaux and anything that might rhyme with them. But upstart countries in this market will be coming on strong, too: Italy is doubling its footprint at Vinexpo, and Spain will triple its showcase area.
The growth of this sixth expo in Hong Kong (the eighth in Asia) simply reflects the growing strength of China as a wine market. According to a just-released market study by Vinexpo and International Wine and Spirit Research, the Asia-Pacific region will consume more than 4 billion bottles of wine in 2017. That's a much faster growth rate than the only two bigger consuming continents, Europe and the Americas.
The numbers for the Chinese slice of that equation: 75.04 million 9-liter cases in 2008, jumping to an estimated 229.96 in 2017 for an increase of more than 206 percent.
After spectacular growth from 2008 to 2012 (about 134 percent), consumption plateaued in 2013. While the growth may have slowed in part because of the recent government austerity campaign, Eizaguirre said that crackdown has the most effect on the cheapest wines, and higher-value bottles are projected to fuel the next wave of growth - a trend that's already begun.