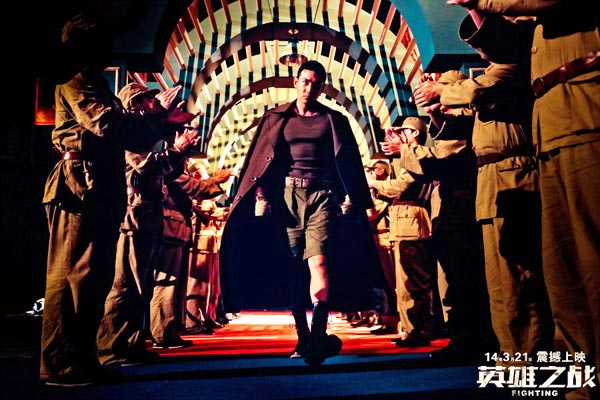 Fighting, starring newly beefed-up actor Lu Yi, arouses doubts and attention when its production company predicts it will become the No 1 Chinese movie at the box office. Photos provided to China Daily
Filmmakers make films for others. When a production company locks up most of the available tickets for itself, people can be duly suspicious of its motive, writes Raymond Zhou.
Every film company wants to make hits, but not every one of them is ready to engage in marketing and sales maneuvers so outlandish many deem them barely legal.
Fighting is a boxing movie set in the War of Resistance against Japanese Aggression (1937-45). It stars a pair of newly beefed-up young male actors, which is said to have special appeal to female fans, especially when they take off their shirts and reveal their washboard abs.
However, what raised eyebrows is not the hunky torsos, but the way this movie has been filling seats and winning media attention. Before it opened on March 21, its production company Daohe Group predicted it would sell 1.3 billion yuan ($210 million) of tickets, making it the No 1 Chinese movie in box-office receipts. It was based on the presale of 4.5 million tickets, which, at an average price of 35 yuan, would amount to 150 million yuan already.
The media soon found out that the sold-out shows were all due to institutional buyers. There were people buying up large blocks of tickets, yet according to some media reports the actual attendance rate was quite low. This was manifested in a sampling of seat charts of movie theaters that show most seats were sold and accompanying photographs of the exact same venues right before the room went dark, showing only a few seats being occupied.
Similar situations arose when government entities bought tickets to certain government-endorsed or government-invested movies and gave them to employees as perks. But such practices are becoming less and less common as they come under fire for misusing taxpayer money. Instead, businesses may purchase memberships or prepaid cards, but employees can choose which movies they would like to see. This is one reason year-end releases attract crowds, because many of these cards and memberships expire by the end of December and holders have to use them up.
If Daohe, the production company, was driving up sales to give the false impression of the movie's popularity, it might not be illegal, said a regulator, because it did not use a pyramid scheme. However, an executive of Inlook Vision, the distribution company, was reportedly "taken away for questioning by authorities" who wanted to probe into the matter more deeply.
It is known across the world that some businesses temporarily become their own consumers so their products make the top-selling charts, which, in turn, arouses wider interest and generates real sales down the road.