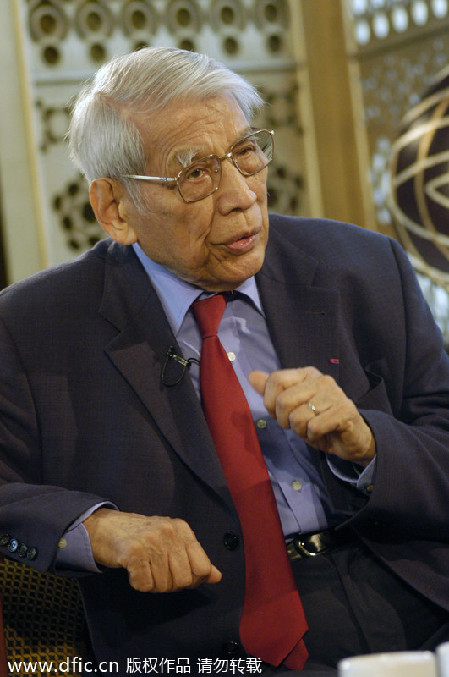 Chinese-French artist Zhu Dequn (Chu Teh-Chun) speaks during an interview in Shanghai, China, June 22, 2004. [Photo/icpress]
Renowned abstract painter Chu The-chun died in Paris on March 26, at age 94. His passing, following the death of Zao Wou-ki (1921-2013) last year, marks the end of a generation of Chinese modernist artists active in the French art circle.
Born in 1920 in Jiangsu province, Chu studied at the Hangzhou School of Fine Arts, now the China Academy of Art, where he perfected his ink skills by imitating ancient Chinese paintings and calligraphy. He was also influenced by Impressionism and Fauvism in his oil creations.
After he relocated to France in 1955, he gradually dropped the realistic style and turned to abstraction. His paintings became iconic, featuring an assembly of rectangles in vibrant colors and a sharp contrast of bright and dark.
Chu became the first Chinese member of the Académie des Beaux-Arts, under the Institu de France, in 1997.
He was also among a group of Chinese artists who studied the arts in Europe and explored combining Chinese and Western aesthetics in the first half of the 20th century. His precedents and peers included renowned artists Xu Beihong (1895-1953), Lin Fengmian (1900-91) and Wu Guanzhong (1919—2010).