Abstract but attractive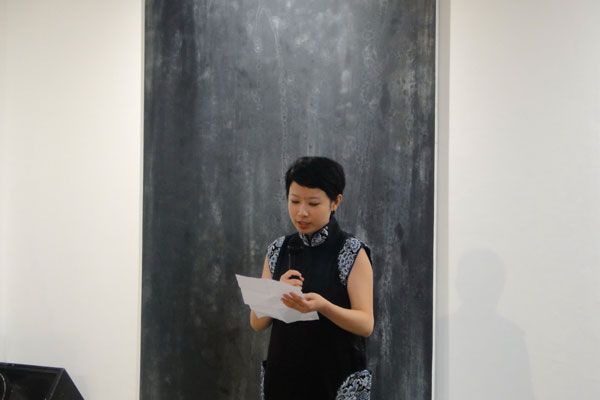 Artisit Han Mengyun delivers the opening speech of her solo exhibition. [Photo by Hu Zhe/Chinadaily.com.cn]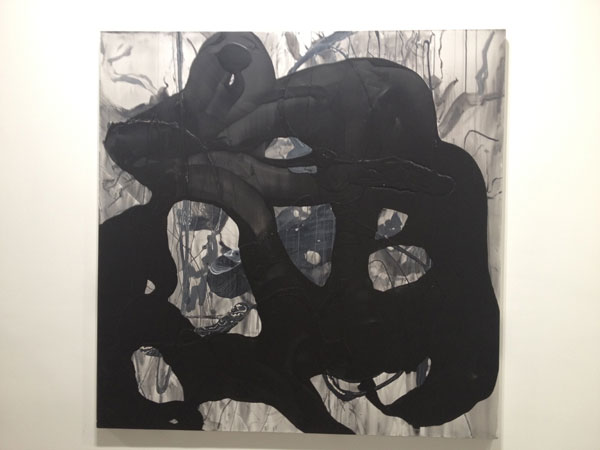 Wandering mind by Han Mengyun.[Photo by Hu Zhe/Chinadaily.com.cn]
Han Mengyun's solo exhibition is now underway in Beijing's Today Art Museum. The exhibition, named In Between Islands, has drawn attention from both art professionals and media alike.
The exhibition consists of four groups of oil paintings titled Samsara, Wandering Mind, Letting and In Succession, a set of ceramic paintings titled Plainness as well as a series of Chinese ink and wash paintings titled Momentum.
The exhibition's Chinese name Wu Ding originates from the Greek word "apeiron." The word was coined by the pre-Socratic Greek philosopher Anaximander to describe the origin of the cosmos, which is inclusive of everything, even things that are opposite, making it "indefinite" and "infinite." The concept of infinity has been a long-standing theme in Han's work, and her artwork, though abstract, has the ability to stimulate viewer's imagination, helping them to reflect upon the world they inhabit.
Having studied in the US for five years, Han's style has been deemed by Westerners as being influenced by Western abstract expressionism, however, Han has responded to this by saying that she doesn't believe in anything with an "ism" in it and further argued that the technical and material aspects of Western traditions enriched her practice indeed, but it is Chinese philosophy that gives her new insights into creating art. "I deeply relate to the cultural and philosophical underpinnings of Chinese aesthetics and sensibilities," Han said in an interview.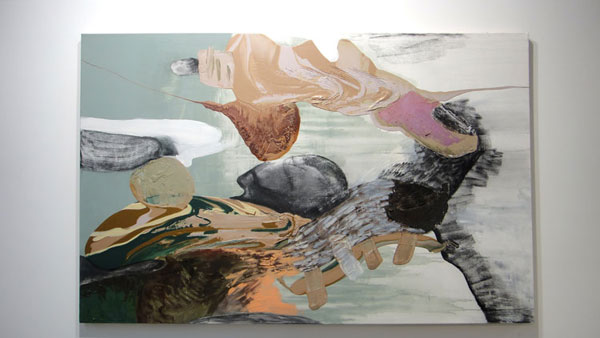 [Photo by Hu Zhe/Chinadaily.com.cn]
Deeply influenced by Chinese traditional landscape painting and Daoism, Han's paintings are rich in Chinese elements, however, she doesn't convey their "Chineseness" through creating a physical likeness of a landscape or an object, like traditional Chinese landscape paintings, on the contrary, she is very much into abstract expression and leaving white, which is a compositional approach within traditional Chinese painting. The emptiness and nothingness in her work serve as a space for the viewers to fill their imagination, like an empty basin waiting to be filled with water.
Alluding to the title of the exhibition In Between Islands, all the paintings in this exhibition create a new world of respective abstraction and resonance with each other. This relationship reveals the chasm between our being and the world we are in, which is subject to individual understanding and by no means conceptual.
If you go: The exhibition In Between Islands is running from July 7  to July 21 in Beijing's Today Art Museum.