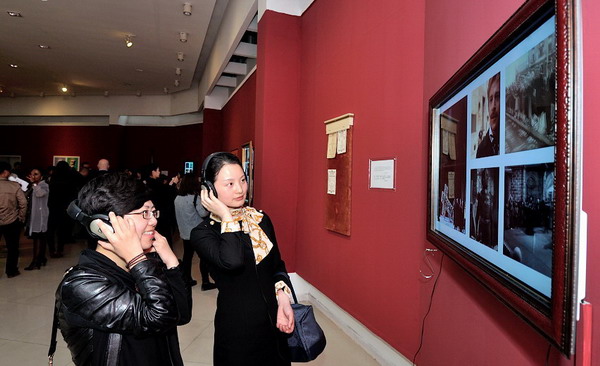 Visitors enjoy a video about Giuseppe Verdi while listening to his music with earphones, at the "Creating Reality" exhibition at the Chongqing Art Museum of the Sichuan Fine Arts Institute, April 8, 2014. [Photo/Xinhua]
An exhibition commemorating the 200th anniversary of the birth of world-renowned Italian musician Giuseppe Verdi began in Chongqing on Tuesday.
Titled Creating Reality, the exhibition features videos in painting frames to display 21 different human emotions, including forgiveness, respect and sadness. All the images responded to 21 letters, aiming to present a combined experience of video and sound to the audience.
The exhibition, at the Chongqing Art Museum of the Sichuan Fine Arts Institute, is on its first stop in western China, and the third stop in the country after Beijing and Qingdao. The exhibition will run until May 5.
Albert Melloni, curator of the exhibition and director of the Italian Foundation FSCIRE (the Foundation for Religious Sciences John XXIII) said the exhibition is a unique tribute to Verdi's works. "I hope the audience will feel the emotions hidden within these works."
Sergio Maffettone, consul-general of the Italian consulate in Chongqing, said holding the exhibition in the city is a sign of the good relationship between Chongqing and Italy. The consulate plans to introduce more such exhibitions to Chongqing residents, to further increase mutual understanding between the city and Italy, he said.