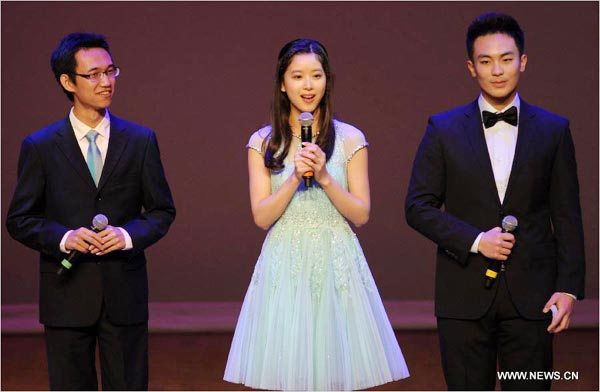 "Milk Tea Sister" Zhang Zetian (C), an internet celebrity, hosts a Spring Festival gala of 20 Universities and Colleges in Eastern US, in Washington D.C., the United States, Jan 26, 2014. [Photo/Xinhua]
Liu Qiangdong, founder of the e-commerce site, JD.com, sparked an online frenzy on Monday afternoon by suddenly updating his Weibo account in which the media and netizens speculate that he had apparently admitted he is dating web celebrity Zhang Zetian, known online as 'Sister Milk Tea'.
Liu updated his verified Weibo account on Monday afternoon, saying that "each of us has the right to choose and make decisions about our lives, and Xiao Tian (apparently referring to Zhang) is the most innocent and kind-hearted person that I have ever met. I regret that I did not provide enough protection for her. Thanks for all of your concerns, all I'm asking for now is to be able to hold hands [with her] and go down the journey of life together. [I] wish you all happiness!"
The update is the first by Liu since 2012. In about two hours, the thread has been reposted and replied tens of thousands of times.
The two had previously denied reports of their relationship. However, photos surfaced on the Internet Sunday which were said to be that of the two hugging and holding each other on the streets of New York City in the United States.
Weibo is China's version of a twitter-like microblogging service.
Coincidentally, a thread on Zhang's Weibo account on Thursday says, in part, "Here comes spring!! Life is short, live it. Love is rare, grab it."
JD.com, Inc., formerly known as 360Buy, is China's second-largest e-commerce company. The firm is poised to undergo a major restructuring, which analysts say could pave the way for its upcoming initial public offering in the United States.
Zhang Zetian, born in November, 1993, is a junior student at Tsinghua University and is now studying abroad as an exchange student at Columbia University in New York. She became popular on the Internet in 2009 after media outlets circulated a picture of her holding a glass of milk tea, where they referred to her as looking "very pure and adorable."
Zhang recently joined the marketing team of Microsoft Research Technology Center (STC) as an intern, according to media reports.