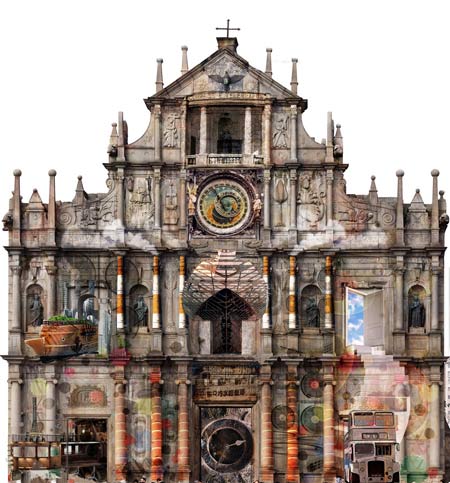 The 1602 facade of St. Paul's is transformed into a giant screen for multimedia extravaganza A Dream of Light. Photos provided to China Daily
The 25th edition of Macao Arts Festival offers avant-garde performances in historic venues. Rebecca Lo ventures backstage to find out more.
Macao native and Cultural Affairs Bureau special projects division head Boyce Lam has long been a fan of his city's arts festival.
"I saw the festival as a child and have been involved in it since its 13th edition," Lam says.
"I am so happy to see it grow and gain audiences' approval."
Now in its 25th year, the "silver jubilee" edition of the festival retains its focus of Macao arts for Macao audiences, with approximately half of its program consisting of local performers.
They share the stage with the likes of the US' Lucinda Childs Dance Company's revival of Dance (May 17-18), a landmark Postmodern classic; Canadian Robert Lepage's virtual theater project marking the 200th anniversary of Hans Christian Andersen's birth, dubbed The Andersen Project (May 23-24); Singapore's W!ld Rice's production of Oscar Wilde's The Importance of Being Earnest (May 16-17); and Portuguese siren Carminho's interpretations of soul-wrenching Fado standards (May 4).
There is an extensive family program to instill a love for the arts at an early age.
Argentinean clown and puppeteer Roberto White uses everyday objects, such as plastic bags and wrapping paper, for his mime-based puppet production Special Creatures (May 16-18).