Meet in Beijing gears up for 14th event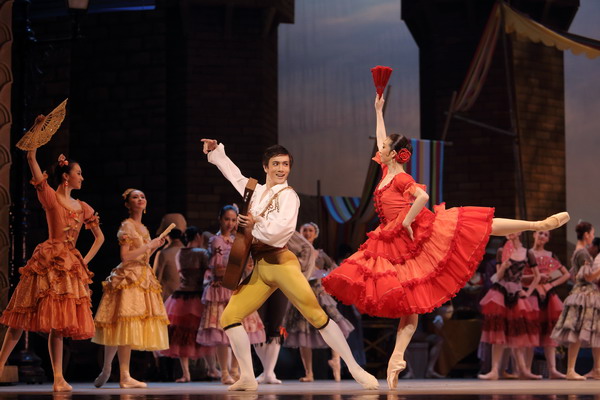 Dancers from the National Ballet of China and Paris Opera Ballet will join hands to stage Don Quixote, as one of the highlight performances during the Meet in Beijing Arts Festival. Photo provided to China Daily
The Meet in Beijing festival is about to hit the capital, with thousands of artists from all over the world set to bring the city to life. Chen Nan reports.
The way to evaluate the success of an arts festival is to consider if the event provides the audience with a diverse selection of events, according to Zhang Yu, president of China Arts and Entertainment Group. That's also the core idea behind the annual Meet in Beijing Arts Festival, which is presented by Zhang's company every April and May. "It should be an event celebrated and anticipated by the audience every year," Zhang says. Meet in Beijing Arts Festival, now in its 14th year, will continue to present a range of dance, music, drama and art.
More than 22 arts troupes and 190 bands from more than 30 countries will perform some 60 indoor and 220 outdoor shows, as well as stage many educational events.
In 2014, France and China celebrate the 50th anniversary of the establishment of diplomatic relations. The Meet in Beijing Arts Festival will open with a concert conducted by French classical pianist-conductor Philippe Entremont and performed by the symphony orchestra of the China National Opera House at the National Center for the Performing Arts on April 28.
Dancers from the National Ballet of China and Paris Opera Ballet will come together to stage Don Quixote, a classical ballet based on the epic masterpiece by Miguel de Cervantes at Peking University Hall from May 15-17.
Throughout May, the festival will feature performances, such as a jazz piano concert by Paris-based Italian jazz pianist Giovanni Mirabassi and Ecuador's outstanding violinist Jorge Saade-Scaff. Feng Mantian, a master player of the Chinese ruan, a traditional Chinese plucked string instrument, will perform, and Hong Kong pop stars Alan Tam and Hacken Lee will present their concert tour. On the other end of the spectrum, 22-year-old Hong Kong singer-songwriter Tang Tsz-kei will also perform.