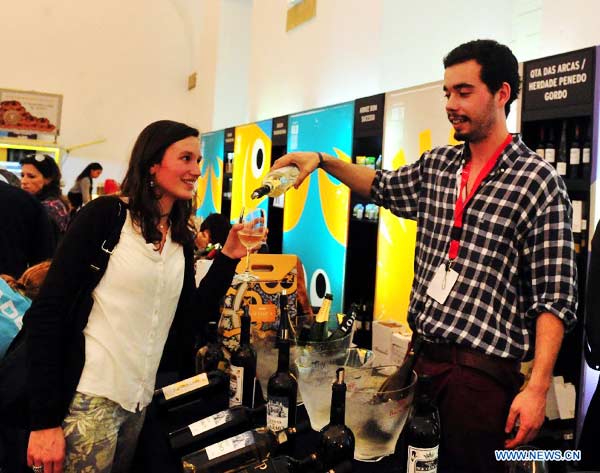 A visitor tastes Portuguese wine during the Lisbon Fish and Flavours Festival in Lisbon, Portugal, on April 12, 2014. The festival is held from April 3 to April 13. [Photo/Xinhua]
Fish lovers flocked to get their last chance to eat at Lisbon's seventh fish festival on Sunday, which closed with a competition for the country's best cooking bloggers and a masterclass by renowned chef Vitor Sobral.
"Peixe em Lisboa", (Fish in Lisbon), one of the country's most important gastronomical events held in downtown Lisbon by River Tagus, began on April 3 with 10 restaurants offering fish and seafood tastings daily.
Restaurants included Arola, owned by chef Sergi Arola, Asinatura by Vitor Areias, Avenue by Marlene Vieira, Bica de Sapato by Alexandra Silva, Claro! by Vitor Sobral and Jose Avillez by chef Jose Avillez.
International chefs invited included Moreno Cedroni, Lionel Rigolet and Josean Alija. National chefs included Joao Rodrigues, Miguel Laffan, Helio Loureiro, Kiko Martins and Vitor Sobral.
This year the fair saw over 80 exhibitors, a record number, at the gourmet market where vistors could try a range of liqueurs, chocolates and cheeses.
Renowned chefs showed their tips and recipes in open cooking sessions and classes, and the best Portuguese tart ("pastel de nata") was selected. The winner selected out of 11 contestants was Alcoa from Alcobaca.