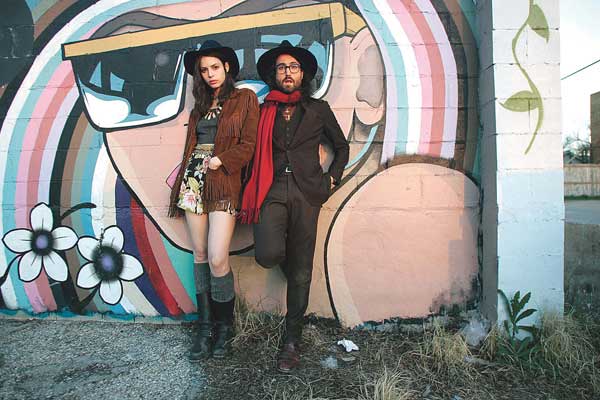 Charlotte Kemp Muhl, in hot pants and cowboy boots, poses with Sean Lennon. [Photo/China Daily]
About eight years ago, the free-spirited model Charlotte Kemp Muhl was at the Coachella Valley Music and Arts Festival in the United States, California. She was dressed, as the festival's unofficial dress code requires, in hot pants and cowboy boots. There, she met Sean Lennon, son of John, and who knows if it was the hot pants or the cowboy boots, but Lennon was smitten. She was 17 at the time.
"We didn't even unofficially date for a year," Lennon recalled recently.
"We courted each other through letters. It was actually super old-fashioned," Kemp Muhl says.
"It was much better when we weren't in the same room. Especially when I was sending you pictures of another guy's body," he says.
"Yeah, he was sending me pictures of another guy's torso, and I was falling in love with him," Kemp Muhl teases back.
The pair banters banter like an old couple because they are, in their personal and professional lives. In 2008, they formed a folk music project, The Ghost of a Saber Tooth Tiger, that has received some acclaim. In March, they were in Austin, Texas, to perform five shows at the South by Southwest festival.
"Basically she was the coolest-looking person I'd ever seen, and within seven seconds of talking to her, it was obvious that she was smarter than me, but I had the advantage that I was 100 years older, so I've been exploiting that ever since," Lennon, now 38 to Kemp's 26, said of their fateful meeting in the desert.
They decided to form a band because, under Lennon's tutelage, Kemp Muhl was inhaling "the classics of rock 'n' roll.
"I was just listening to it nonstop, and we were both like, 'This is the kind of music we have to write now'," she says. They have released an EP and an album, Acoustic Sessions, and they go electric in the forthcoming Midnight Sun, which goes on sale at the end of April.
This was not their first time at South by Southwest: Lennon came in 1997, and they performed as a duo with their last album four years ago.
"We love Texas. That's where I got this (fringe) jacket," she says. "Oh my God, we found this antique shop with crazy Masonic robes, like Freemason and stuff. We got so much amazing stuff."
Next, they intend to tour some more and put out more records. And, for Kemp Muhl, more modeling, which pays for her less lucrative music career.
"I feel like Robin Hood or something," she says. "I'm trying to steal money from the fashion industry and put it in the music industry."